Playtopia is a Cydia tweak available for anyone jaibroken running iOS 9 or below. Playtopia brings the miniplayer that is famous within iTunes, onto iOS, meaning you always have access to your media controls without needing to bring up control centre.
Playtopia has a great UI which fits in great with the rest of iOS and you will struggle to believe after a bit of use that it wasn't built in the first place. Not only does it show which app, or source, that your music is coming from but it will also show the album art as well which is great for those that appreciate it.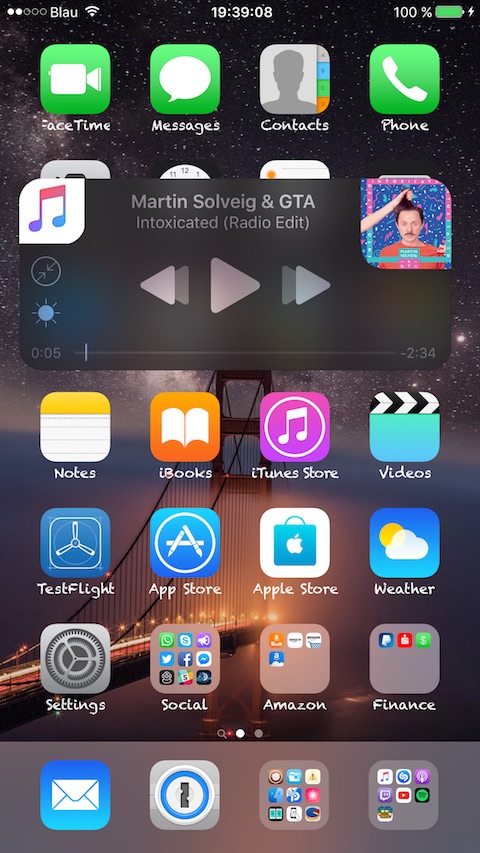 If you tap on the album art it changes the slider between the music sequence scrubber to the volume slider, allowing you to make subtle changes without needing to do much. Playtopia even has it's own 'Dark Mode' with a button to the left of the slider allowing you to switch in between light and dark mode, great for fitting in with the time of day or the rest of your devices theme.
If you're really pressed for space on an old iPhone 5 perhaps, or even the iPhone 4S, you'll appreciate the super compact 'miniature' mode which is just a little larger than the standard app size on your home screen. This mode is a circular icon with the centre being a play/pause button and the scrubber circling the outside.
For those of you who have never really got on with any other mini music players or just like having the most screen estate possible on a smaller device, then you will really appreciate the sleek interface of this mode.
It has a simple configuration however warning, it requires something called 'AppList' which it will help you install where necessary. This simply allows you to configure what apps you don't want the miniplayer to work in, such as games for example.
If you think Playtopia is the tweak for you then you can download it off of the BigBoss repo today for $2.99. Are you going to be downloading it or is it not quite you're thing. Leave a comment letting us know you're experience on it or why you didn't decide to install it.