The new iPhone 6s and 6s Plus have a new feature called Live Photos that records a few seconds of video before and after a photo is taken. This will then result in a photo that isn't just a static image anymore. It's similar to a GIF, but different because Apple actually records a video to make this happen. All this is done with the help of the new 3D Touch display in the iPhone 6s and 6s Plus and is exclusive to these devices.
However, if you're on a jailbroken device that isn't an iPhone 6s or 6s Plus, then you can still enjoy the new Live Photos feature. Thanks to jailbreak developer, Elias Limneos, you can now use the Live Photos feature on your older iPhone, iPad and iPod Touch.
You're going to need a jailbroken device that's running iOS 8 – 8.4, since there is no jailbreak after that. And you're going to have to download a tweak called PhotosLive that is currently available from Cydia.
After installing PhotosLive and rebooting your device, you will have to download the license. Once that is done, you can go straight to using the tweak.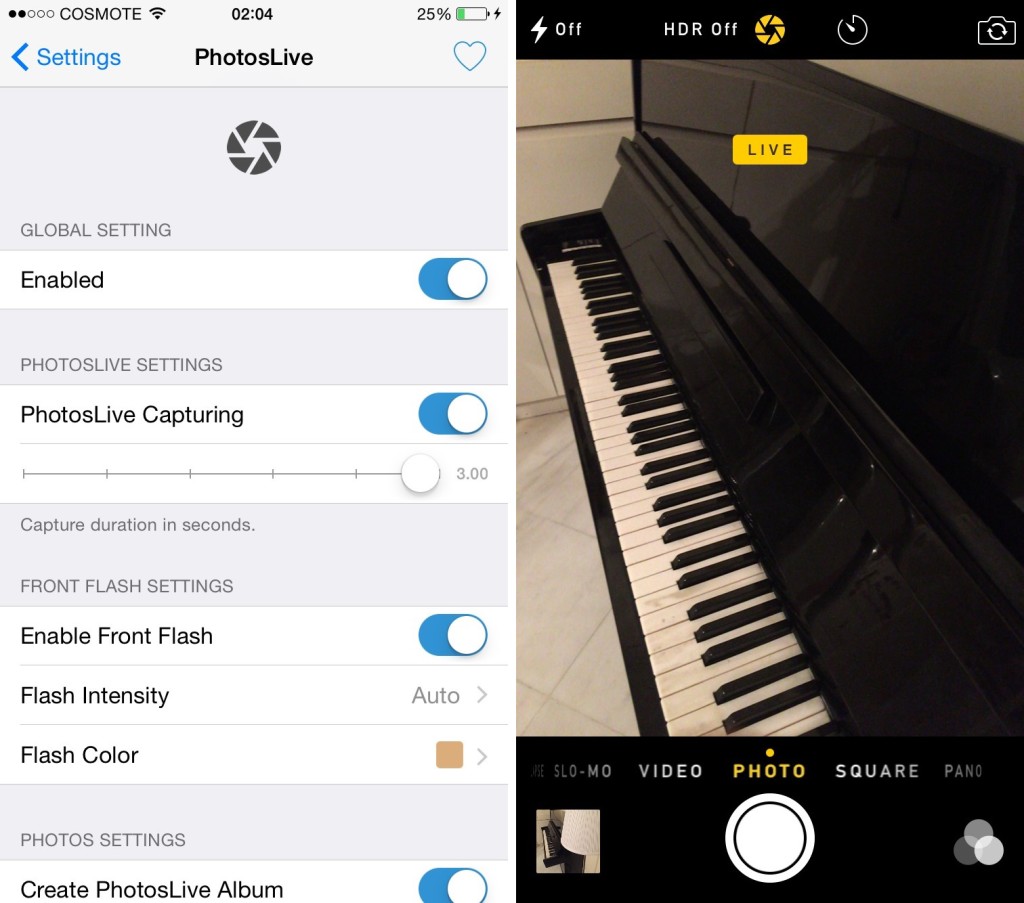 The tweak also lets you use your display as a front flash, like in the new iPhones and you can even set the color for the flash. In the Settings menu, you can adjust the length of capture and enable/disable the tweak.
Using PhotosLive is easy and doesn't feel like an add-on, it's all nicely integrated into the stock iOS Camera app. All you need to do to capture a live photo is to tap on the new icon located next to the HDR option in camera. Then, just take a photo like you normally would and the tweak will take care of the rest.
You can now use the capture live photo as your wallpaper and tap-hold on it to play, just like on the new iPhone 6s and 6s Plus. The tweak does everything that the real thing does, except record sound. Here's a video of the tweak in action:
PhotosLive is available in the BigBoss repo for $1.99, but will soon be sold for $2.99, so grab it while it's cheap. This tweak is perfect for those who want the new Live Photos feature, but don't want to buy the new iPhone 6s or 6s Plus for it.
Let us know what you think of this tweak!