If you have been annoyed by the fact that you need to enter your Apple ID on a regular basis to purchase music from iTunes or applications from the App Store. You will be glad to know that we have found a Cydia tweak that will allow you to bypass this precautionary measure put in place by Apple. This Cydia tweak goes by the name of PasswordPilot and is an amazingly useful tweak for you if you download a lot of content like music, movies, or applications from Apple.
As explained prior, what the PasswordPilot Cydia tweak does, is stops you from having to type in your Apple ID password whenever you download something from Apple.
Warning: Use it at your own risk. If anyone gets access to your device, they could purchase apps without your consent. Additionally, with this tweak installed it is easier to purchase content by accident due to the fact that purchases now take place in 1 click.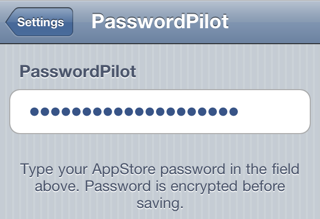 If you read the warning above and would still like to install the PasswordPilot Cydia tweak to your iPhone, iPod Touch or iPad you will be glad to know you can find it through the BigBoss repo for FREE. Keep in mind that you will need to configure the options for PasswordPilot via the Settings application. Let us know what you think of the PasswordPilot Cydia tweak in the comments section below…
Written By Jay