Have you ever wanted to transfer iOS Application Data (game saves) from say your iPhone to your iPad? How about backup your Angry Birds progress before a restore? If you answered yes to any one of those questions you will be thrilled to know a brand new utility was released into Cydia today called DataDeposit that allows you to do just this! In a simple click of a button your iOS Application Data will be transferred to your DropBox account and will be available for restore on your other iDevice or on the same iDevice after a restore.
If you have never heard of DropBox before you are probably wondering what this has to do with the DataDeposit utility. Dropbox is a FREE Web-based file hosting service operated by Dropbox, Inc. that uses cloud computing to enable users to store and share files and folders with others across the Internet using file synchronization. In non-technical terms it allows you to easily manage files on the go (think of it as your own personal USB stick in the cloud).
With combining Dropbox and the DataDeposit utility one can easily backup their game saves and restore them to any iDevice that has the DataDeposit utility installed on it.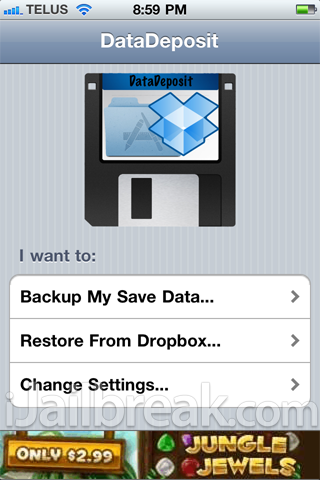 BigBoss
If you are liking the idea of the DataDeposit utility you will further be glad to know that it is available FREE through Cydia. If you decide to try out DataDeposit let us know your thoughts about it in the comments section below.