This past summer I learned two things. Everyone loves to text and you cannot fully block someone from your contacts. As such, I wished there was an option to download iBlacklist after I received my iPhone 5.
AT&T does have an option for a person to buy smart limits. It's $4.99 a month and you can block up to 30 phone numbers. I found out it doesn't work that well though. After my girlfriend cheated on me I thought the best way to forget her was to block her telephone number using AT&T. When I paid AT&T and set everything up I received a text message from her saying, "you already blocked my number?"
I found out I could receive and send text messages to her if iMessage was turned on. In addition to iMessage a person can receive MMS messages from a blocked number with iMessage turned off. If I turn off iMessage then texting all my friends with an iPhone won't be free anymore. Isn't there an option to turn off individual contacts from iMessage? There are millions of people using an iPhone that surely are in my same predicament.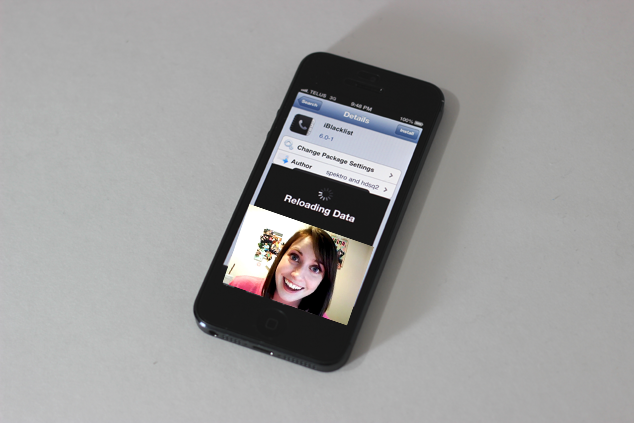 iBlacklist could of blocked both her Calls and SMS even if she tried to call me blocking her number with an Unknown or Restricted ID.  What girls haven't experienced an ex-boyfriend trying to call them by an unknown number then fall back into their trap? iBlacklist has the option to send the call directly to Voicemail, busy signal, accept and hangup, no action or accept. I could of setup iBlacklist to receive no notifications from her, restrict her number and delete anything she ever said without knowing later.
Let's take another situation. Have you noticed unwanted text messages from a group chat? Example; Two of your friends would argue or just keep texting each other morning or night, but you were included in the group message? You might even send the group a text telling them to stop, but the texts kept pilling up. I ended up using the iPhone's "do not disturb" at night time, but by the morning I would have a bunch of messages. One time I woke up and had 94 unread text messages!
iBlacklist has the option to allow a contact or friend to call me, while blocking their SMS and have it auto reply anything I want back to that person. I found out that auto reply does not come up in the group chat though, and only is sent to that individual person you have chosen.
Finally, 136 days later a new tool was released called evasi0n to jailbreak our iPhone's. After downloading SBSettings, iBlacklist was next. It's one of the oldest applications going back to 2007 when the first iPhone was introduced. Its intentions are simple. Create an application that will block Calls or SMS from the Apple stock Phone and Messages application with plenty of options! Go to Cydia and download a free trial of iBlacklist, you'll find it useful.
Enjoy the luxuries of your newly jailbroken iDevice.
Here is the iBlacklist Manual you can download for free to help you get started.
Download iBlacklist Manual