One thing that has always bugged me about my iPhone is that you cannot sync it will multiple iTunes libraries. While there are obviously solutions available to get past this default restriction I have never really put the time fourth to actually look into them.
That is why when I saw the MultiTunes Cydia tweak today I was excited to share it with you. Essentially what the MultiTunes Cydia tweak allows you to do is sync your iPhone, iPod Touch or iPad with multiple iTunes libraries. MultiTunes works by creating profiles for each of your various iTunes libraries on different computers. So if you wanted to sync music on your Windows computer and your Mac computer, you could create a profile for each and sync music to your iOS device like normal without losing the current music that you have already synced.
Once you are done syncing music between your various iTunes libraries you can simply switch between the profiles you created in the MultiTunes app and you will find the music from the currently selected library in the Music.app.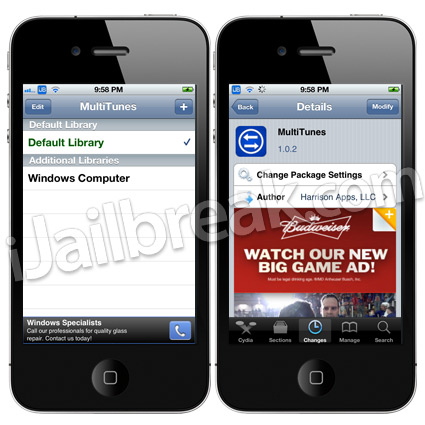 If you are interested in the MultiTunes Cydia tweak you can find it through the BigBoss repo for FREE. Let us know what you think of Multitunes in the comments section.