While some of you may have already heard of the Cydia utility MewSeek, today was the first time I heard of such an application. I was talking to one of my friends this morning and while we were discussing a problem he was having with his iPhone and I noticed an unusual app on his SpringBoard – MewSeek. I asked him about the application and after giving me a quick demo of how the app worked I knew this was an app I had to have; saying that, an app that I know a lot of you will have to have as well.

By now I bet you are wondering – what is MewSeek? To answer your question MewSeek is an all-in-one music downloading/streaming service that allows you to download songs over WiFi/3G or even edge. Unlike similar Cydia utilities like dTunes MewSeek allows you to transfer the songs that you download directly to the iPod.app/Music.app. Allowing you to manage your music without the need of iTunes.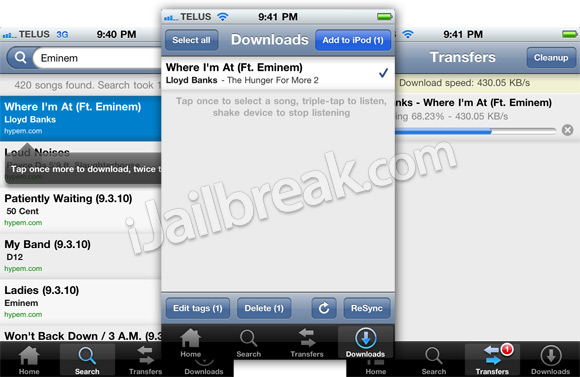 Not only does MewSeek provide you an effortless way to download and manage music on your iDevice. It is coupled with an easy to use GUI (graphical user interface) that is full of extended features.
If you are interested in MewSeek you can find it through Cydia for free. Unfortunately, however, MewSeek is not a completely free utility. While you can download MewSeek for free you are limited to the amount of song searches and song downloads that can be performed daily. Additionally you can only use the add to iPod feature 10 times before you will need to purchase a license which will cost you $9.99 (one time fee).
Let us know your thoughts on the MewSeek utility in the comments section below.