Are you tired of having to tap the home or power button to keep your screen awake? Would you like to be able to set a dim delay, so you can view those sweet widgets or animated wallpapers for a longer time, then look no further than a tweak called Lockscreen Extender developed by FreeApple for iOS 7.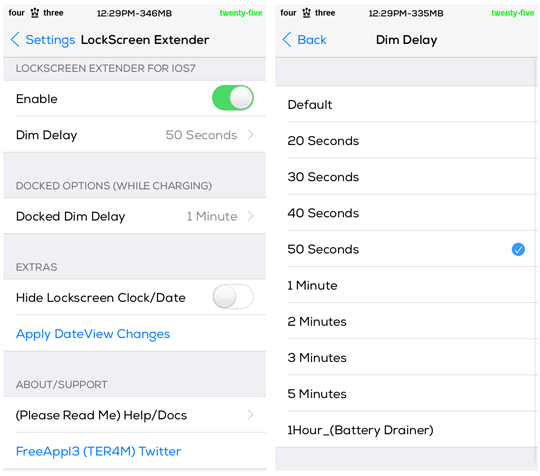 After installing the tweak head over to its preference pane in the general Settings application. Users will be able to enable or disable the tweak, choose a dim delay for the lock screen, set a dim delay when the device is plugged into an outlet, and hide both the clock and date on the lock screen.
Take note, when applying a regular delay time for the lock screen which is called dim delay, be careful which setting you choose so you don't eat up your battery life. Of course users don't have to worry about the battery life when setting the docked dim delay option, because the device will be plugged into a power source.
Users will have 10 options for dim delay, from default to 1 hour, while the dock dim delay will allow for one more option, forever.
It looks like this tweak is made for those who use lock screen widgets because it also gives you the option to hide the clock and date. I'm sure there are other reasons other than widgets though. LockScreen Extender is available on the ModMyi repository for 99 cents. Let us know what you think of the tweak in the comments section below.