It has been great to finally install all of the tweaks I have been longing to try on my iPhone 5. It was actually a shock finally Jailbreaking again after such a long period of time using a stock device. It is amazing how you get used to putting up with stock iOS and then once the Jailbreak rolls around doing certain tasks take half the time they used to.
During the period of time between the release of the iOS 5.1.1 Untethered Jailbreak and the iOS 6.x Untethered Jailbreak there were some tweaks released into Cydia, but most of them were just clones of already existent tweaks just done in a slightly different way. Thanks to over 7 million people Jailbreaking their devices however, developers are now more motivated to spend time developing unique tweaks.
One such developer is Flippo Bigarella. He has recently tweeted about a new tweak called LivelyIcons that is going to be released soon that will allow you to have app launching animations. Meaning, you can for example, add a bounce effect to icons — Mac OS X style — that will initiate before an app is launched.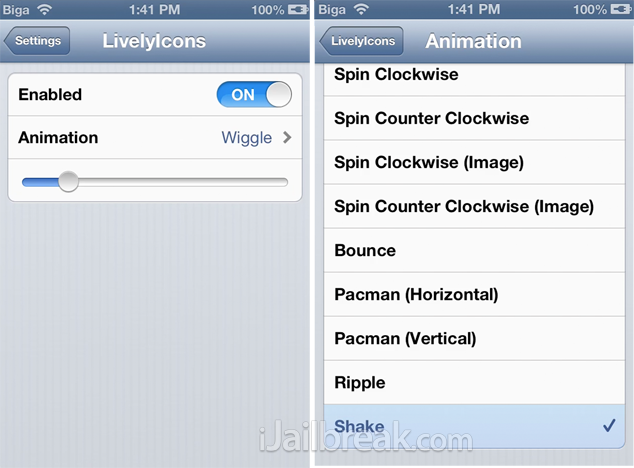 By the looks of the video demo of LivelyIcons there will be quite a library of app launching animations. We would embed the video, but is being hosted on f.cl.ly, which makes it not possible. Here is a list of all the current animations:
Zoom In
Wiggle
Spin Clockwise
Spin Counter Clockwise
Spin Clockwise (Image)
Spin Counter Clockwise (Image)
Bounce
Pacman (Horizontal)
Pacman (Vertical)
Ripple
Shake
We will let you know when LivelyIcons is released into Cydia. Until that time stay tuned.