LiveClock is a really old Cydia tweak, but also one of the coolest ones. It animates the Clock app on your iOS device and makes it show the current time, all with a moving second hand, minute and hour hand. This tweak was last updated in July 2009 to support iOS 3! The tweak comes from well-known developer Ryan Petrich who also brought us Activator.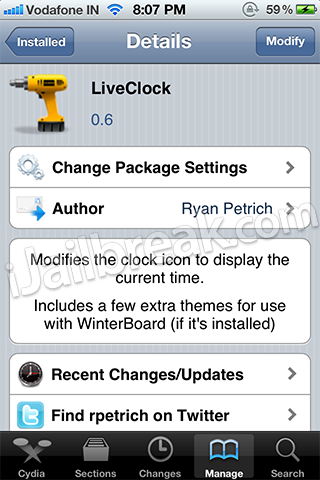 The tweak was updated yesterday and finally brought support to iOS 5, iOS 5.1 and iOS 5.1.1. LiveClock 0.6 works perfectly fine with the latest version of iOS and is a nice little tweak, if you like animation. There's nothing more to this tweak, no settings to be configured etc. Install the tweak from Cydia and re-spring your device. To get LiveClock 0.6 though, you'll need to add Ryan Petrich's repository to your Cydia sources. To do this, go to Cydia > Manage > Sources > Edit > Add and input the following address:
http://rpetri.ch/repo/
LiveClock is available for free and doesn't cause any problem with other tweaks. Do you like this tweak? Let us know in the comments section.