Launchpad for iOS is essentially Control Centre on steroids. Running great on both iOS 8 and 9, it can be found in Cydia under the ModMyi repo for just $2.50!
Launchpad essentially creates a paging system where you would normally find control centre. Not only this but it also shrinks it down making it great for the iPhone 6.. and especially the 6 Plus!
By default it comes with 7 pages, that you can toggle on and off as you so wish.
Applications
Music
Date and Time
Weather
Quick Toggles and Shortcuts
Notifications
Battery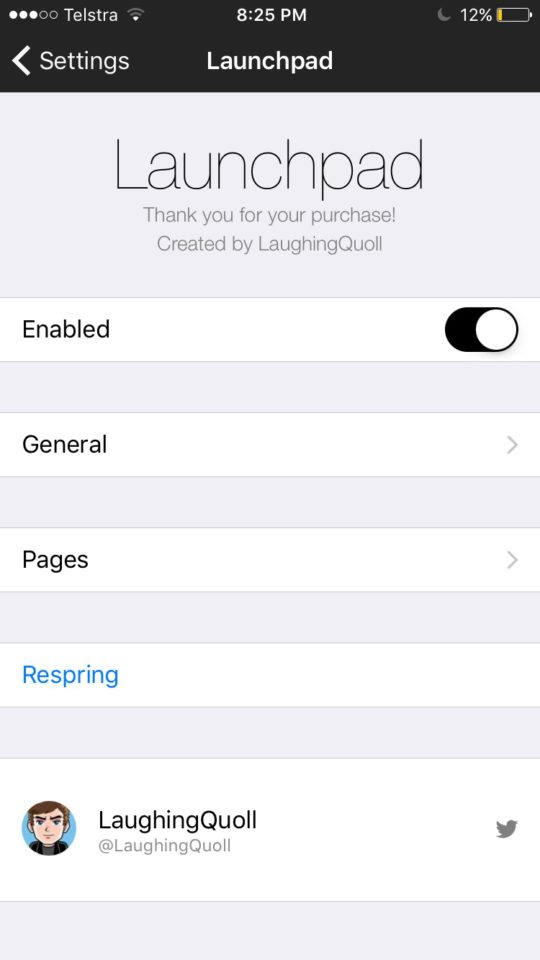 Greeting you with a very simple, straightforward setup menu; you can select the pages you wish to see along with some other general settings, you simply respring and away you go!
Obviously you probably won't want all the pages crammed down there, for example, the date and time option may only be for someone who is particularly forgetful, or just wants to be double sure. Notifications also might be a bit cramped down there, it's your choice. Take the time to experiment a little with how it's all laid out and you'll struggle without it, it's a must have for me!
With a handy little music tab alongside some others, it's a little like the new iOS 10 with a separate 'card' for Music. However, with this you have a much larger opportunity for 'cards' and what they can hold in them. For those who's batteries are on the way out, or just want to keep an eye on their power, there's even a page for that!
The developer is promising that there are more pages on the way in future updates.
Don't forget to leave a comment below about your experience with Launchpad and whether you prefer it to the default, or to iOS 10's new cards! Which pages do you think are unnecessary and what would you like to see added in future updates?