With the busy lives we all live sometimes it is easy to forget important tasks that we have to do in a day. Although there is the Reminders.app that comes stock with the iOS 5 firmware, sometimes launching the application and setting up reminders can be too much of a hassle. This is where the iReminder Cydia tweak comes into play.
With the iReminder Cydia tweak you can easily set reminders on your lockscreen. Essentially what iReminder does is brings a notepad to your lockscreen where you can easily jot down things you need to do, shopping lists, etc. As these reminders appear on the lockscreen you are guaranteed to see them every time you check your iOS device.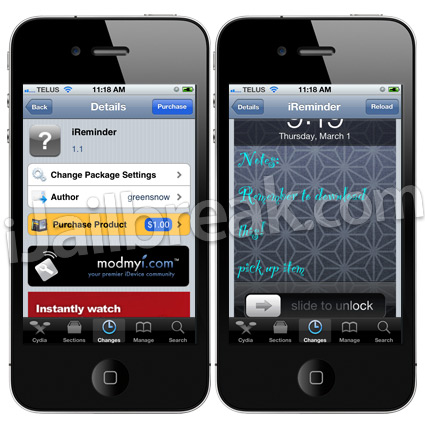 The iReminder Cydia tweak comes with over 180 different fonts, customizable font colors and also font sizes. This makes for an extremely functional Cydia tweak that is very useful for those looking for a quick method to jot down things on their mind.
If you are interested in the iReminder Cydia tweak you can find it through the ModMyi repo for $1.00. Let us know what you think of iReminder in the comments section below…