As you may already be aware, Robert Broglia has disabled automatic Cydia sales of his excellent '.emu' series of emulators due to a policy dispute with PayPal. Broglia's paid emulators cover a variety of systems along with native support for the iCade, iControlPad, Zeemote, and Wii remote–with or without the classic controller attachment.
While these emulators are temporarily unavailable for direct purchase through the Cydia Store, you can still buy them from Robert Broglia's personal website, ExPlusAlpha. Keep in mind that while the apps are currently $0.49 less than they would be in Cydia, there may be some delay in the transaction as Broglia has to manually gift the emulators to your account.
For reference, here are the prices of Broglia's listed apps:
2600.emu: $2.50
GBA.emu: $4.50
GBC.emu: $4.50
MD.emu: $6.50
MSX.emu: $7.50
NEO.emu: $3.50
NES.emu: $5.50
NGP.emu: $4.50
PCE.emu: $3.50
iControlPad Update: $1.50
If you don't already have the emulators, and would like to take advantage of the $0.49 discount on each app, you can send Robert Brolgia a donation–matching the total cost of the apps you wish to purchase–through his funding page, then send him an email with your Cydia account number and the names of the apps you want. Broglia's email is info@explusalpha.com.
You can find your account number in Cydia by navigating to Cydia → Manage Account. When you log in, your account number should be just below the Installable Purchases button.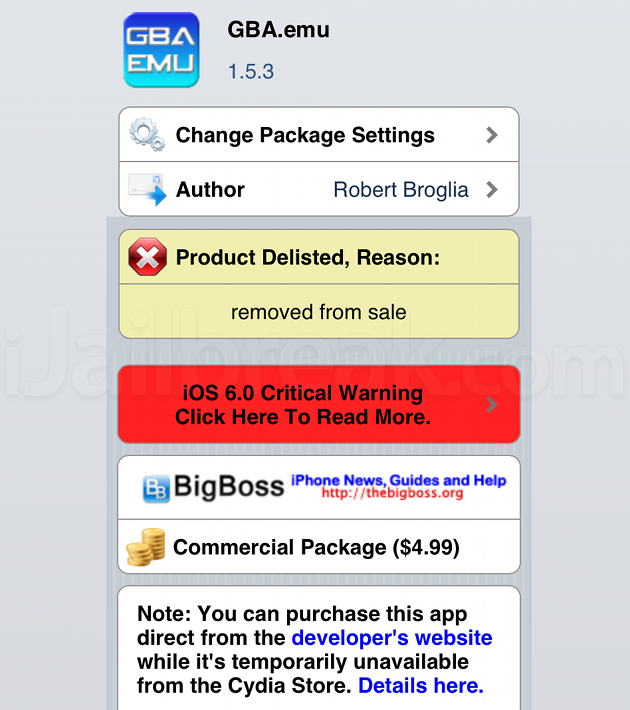 In addition to a workaround from his dispute with PayPal, Broglia has just updated all his iOS emulators with support for saving to a custom path. If you want to try out Robert Broglia's emulators before buying, you can find Snes9x EX in the BigBoss repository on Cydia for free, which shares the same feel and features of the .emu apps.
Share your thoughts in the comments section below.