Comex has just released JailbreakMe 3.0 and while you are all following our tutorial on how to jailbreak your iPhone, iPod Touch or iPad using JailbreakMe 3.0, I am going to bring up an important issue. Whenever a new Userland Jailbreak is released is means a serious flaw in the iOS firmware has been uncovered. This serious flaw is how Comex was able to develop JailbreakMe 3.0 (as this is how the Jailbreak functions… through this flaw in the iOS firmware).
Potentially, however, as this flaw has now been discovered and broadcasted to the world, it means any individual could potentially install malicious software on your iDevice the same way your iDevice was able to be Jailbroken by visiting JailbreakMe.com. While it will only be a matter of time before Apple releases iOS 4.3.4 to patch this flaw discovered by Comex. Comex has developed a Cydia package called PDF Patcher 2 that will patch this flaw in the iOS firmware for good.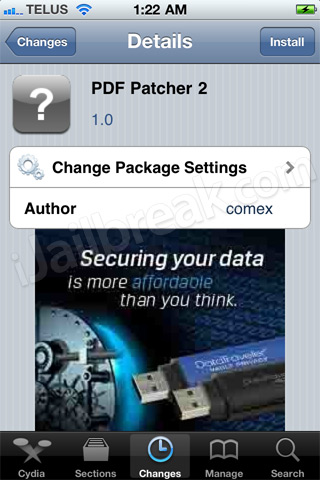 Meaning that the flaw will no longer be present, you can still enjoy your Jailbreak and you will be as secure as ever. A great example of how Jailbreaking your iPhone, iPod Touch, iPad can actually make it more secure.
So I urge all of you to launch Cydia right now and install PDF Patcher 2.
Note: This flaw is present on all iPhone, iPod Touch, iPad's running any firmware version regardless of whether you Jailbroke with JailbreakMe 3.0 or not.
Let us know if you have any questions in the comments section.