The Gotha Cydia tweak adds some useful new functionality to the Contacts app that you will definitely be interested in if you use it on a regular basis.
The first big addition that Gotha brings to the table is the ability to swipe right on a contact (on a person's cell) to reveal some shortcuts for getting in touch with them. These shortcuts include sending an SMS/iMessage, calling, e-mailing, opening his/her profile on social networks and more. All of these shortcuts are displayed as mini icons that appear in the person's cell. The second addition is the ability to easily delete contacts by swiping left. Upon doing this a delete button will appear like other stock applications. All of these features of course also work from the Phone app on the iPhone.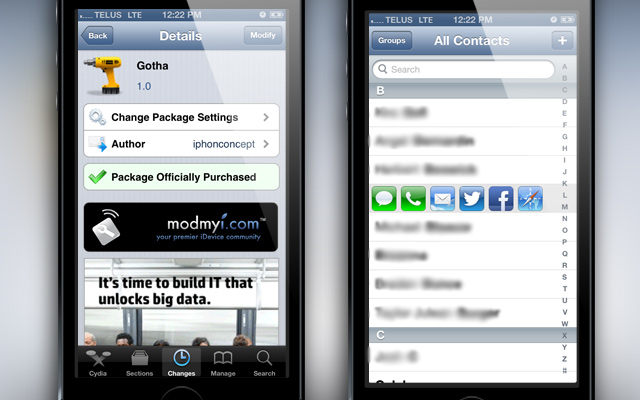 There are some Settings associated with the tweak that include the ability to turn off the contact deletion gesture and also a toggle for whether you want a confirm to delete window to appear when deleting contacts.
If you are interested in the Gotha Cydia tweak you can find it in the ModMyi repo for $1.99. Let us know what you think of it in the comments section.