Over the weekend we reported on a malicious string of characters that all web browsers utilizing Apple's CoreText API crashed upon rendering. Although the bug has been fixed in both iOS 7 and OS X 10.9, there has been no word whether an update will be released for iOS 6 and OS X 10.8.
Not to worry though FilippoBiga is here to save the day and has released a Cydia tweak for all Jailbroken iOS Devices called GlyphPatch to fix the issue for good. Originally this tweak was only available on GitHub and had to be manually installed, but now the tweak has found its way into Cydia.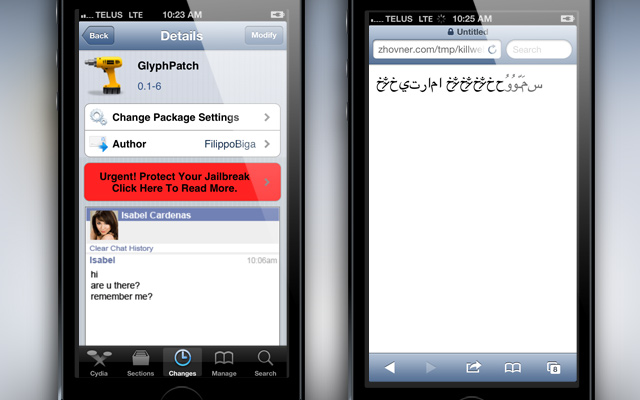 Installing this tweak will protected you in all areas of iOS like SMS, iMessage, Safari and Network SSID. This is what FilippoBiga had to say on the tweak's depiction page through Cydia:
On Aug 29th, 2013, a DoS (Denial of Service) exploit targeting iOS / OS X was disclosed. This exploit is based on a vulnerability affecting iOS / OS X characters rendering engines: this tweak aims to patch that vulnerability in order to protect the user from this kind of attacks, since the exploit can be triggered through different surfaces (SMS, iMessage, web, network SSID).
It is definitely recommended that you install the patch as soon as possible because you never know where you might discover it. Certain people have been posting it over Twitter, on various websites through comment systems and other random areas and it is extremely inconvenient (and a security concern) to encounter.
You can find GlyphPatch in the BigBoss repo for free.