If you were a fan of the old Android 2.0 Gingerbread lockscreen then you are going to be glad to know you can get this same lockscreen on your iOS device. A new tweak has been released called GingerLock that brings the very well known Android 2 (Gingerbread) sliders to iOS.
Its implementation is simple. There are two sliders that will be shown on the lockscreen when you install the tweak. The slider on the left will unlock your device when slid over to the right and the slider on the right will launch an application of your choice when slid over to the left.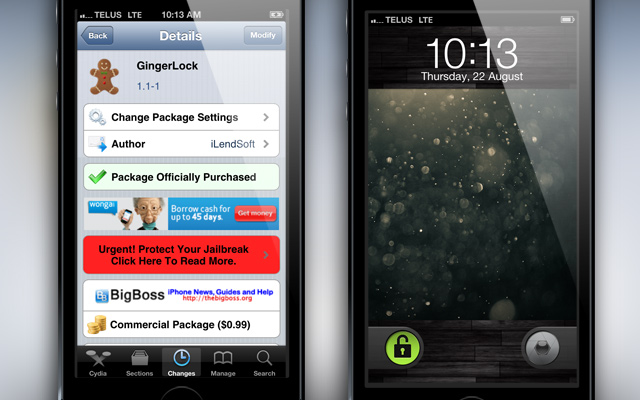 GingerLock does have a preferences panel that can be found in the Settings app with a killswitch, a rounded toggle and background toggle. The rounded toggle will get rid of the background of the sliders and simply make it so you are sliding a circle, while the background toggle determine whether you use the graphics included with the tweak or the stock LS Clock background. Then you can hide the right application slider completely and choose an application to launch besides the Camera app, which is default.
If you are interested in GingerLock you can find it in the BigBoss repo for $0.99. Let us know what you think of the tweak in the comments section.