If double clicking the Home button to switch between apps is too much work for you, then you should try this. Flipflop, a new tweak for jailbroken iOS devices, gives you an Alt-Tab like functionality to switch between apps.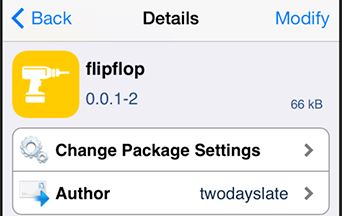 This tweak basically overrides your Home button so you'll have to use Activator to assign an action to close apps and go to the homescreen. Once the tweak is installed, head over to Activator settings and you should find the FlipFlop action. Assign an action such as double-click Home button to activate FlipFlop and switch between running apps.
When you double click on the Home button, the previous app will immediately come to the front, giving you the Alt+Tab function found in Windows. You could also assign an action of your preference if you don't want to use the Home button for Flipflop. According to the developer, this tweak doesn't work with AppSlide and SlideBack. Therefore, make sure you don't have them installed before trying this out. 
FlipFlop is currently available in the BigBoss repo and works perfectly with iOS 7. Try it out and let us know what you think of this tweak.