Thanks to the Activator tweak developed by Ryan Petrich, many other jailbreak developers have found easier and quicker ways to integrate basic compose functions on jailbroken iOS devices. By basic compose functions, I mean the act of composing a new email, text message, Facebook status update or even a Tweet.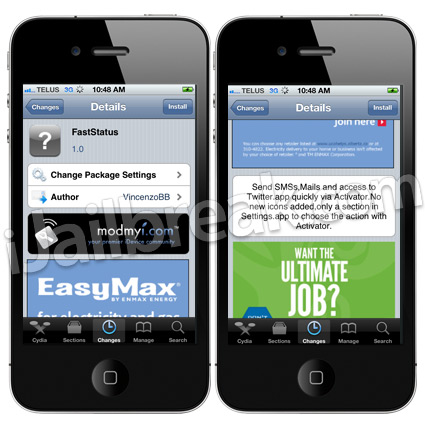 FastStatus utilizes the power of Activator and brings quick compose actions to your jailbroken iOS device. Using this tweak, you can start composing an Email, SMS or a Tweet. After installing the tweak, you'll need to assign any of the Activator gestures to bring it up. The tweak then brings up a quick menu anywhere in iOS with the options to send Email, SMS or Tweet. There is unfortunately no Facebook or any other integration as of now.
Tapping on any one of them will take you directly to the app and you can start composing right away. You can use FastStatus from the lockscreen too! For those interested the FastStatus tweak is available for FREE in the ModMyi repository. Try it out and let us know if you liked it in the comments section.