FaceTime is a feature that Apple has implemented to change the way we communicate with each other; by adding onto the normal calling functionality present in most smartphones. Instead of just hearing ones voice while calling someone, you can share the luxury of seeing who you are calling, with the added ability to share your surroundings. This makes calling someone much more personal and "fun". As FaceTime has become a clear hit Apple has implemented FaceTime on almost all Apple products including Mac computers.
The only letdown I would say about FaceTime is that it cannot be used over a 3G network. To use FaceTime by default you must be connected to an active Wifi connection. If you have ever wondered if it was possible or not to use FaceTime over a 3G network, on your iPhone for example. You will be glad to know this is defiantly possible on Jailbroken iDevice's.
Enable FaceTime Over 3G On iOS 5.0/iOS 5.0.1
With the FaceBreak Cydia tweak you can use FaceTime over a 3G network. Now, if you have been in the Jailbreaking community for some time now, I am sure you have realized FaceBreak is not a new Cydia tweak as such. The reason why we are bringing the FaceBreak Cydia tweak up again is because it was recently updated to version 1.70 to support the iOS 5.0/iOS 5.0.1 firmware.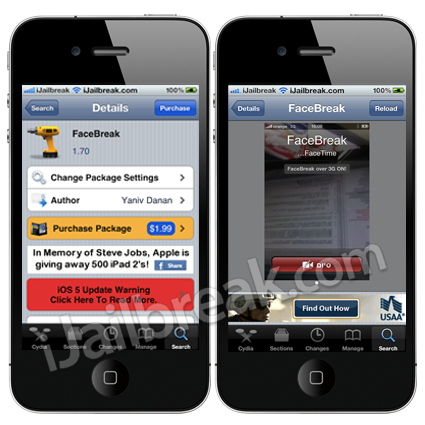 Do you want to use FaceTime over a 3G network while running the iOS 5.0/iOS 5.0.1 firmware? Then download and install the FaceBreak v1.7 Cydia tweak from Cydia and you can enable FaceTime over a 3G network on the iOS 5 firmware generation.
Note: FaceBreak does have configurable options through the Settings.app (this is where you must enable the tweak). Additionally, if you install FaceBreak v1.7 and FaceTime refuses to connect the you must simply disable the FaceBreak Cydia tweak, respiring and then enable the FaceBreak tweak again.
Let us know if the FaceBreak tweak has enabled you to use FaceTime over a 3G network while running the iOS 5.0/iOS 5.0.1 firmware in the comments section below…