How would you like to enable night mode for iOS 7? Do you feel like all the white space gets blinding at night time?
Check out the new and highly anticipated Cydia tweak called Eclipse, developed by Guillermo Moran or otherwise named fr0st on Twitter. The tweak features a night mode which darkens most of the native iOS apps and third party apps using various shades of gray for easier night viewing.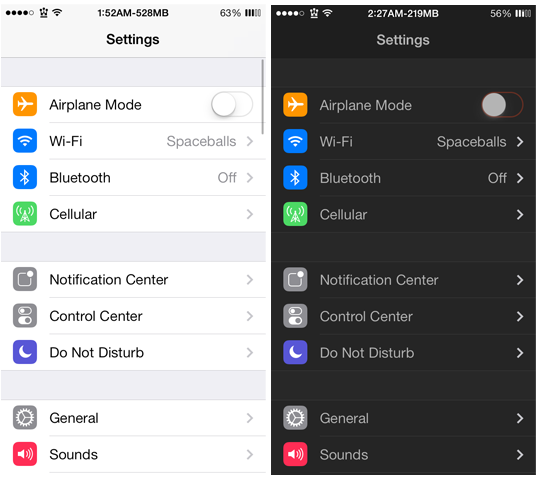 Ever since using night mode in Tweetbot many people have wanted to see a feature like that in iOS itself and Eclipse is something that now has come to fruition. It may not be perfect right now, but the developer has since stated future updates are on its way.
Eclipse has a preference pane in general Settings where you can enable or disable the tweak and other options such as; Darken wallpapers (lighter wallpaper takes on a darker tint), enable orange tint (turns the blue text and outline buttons to orange) and an experimental option to darken UI Views (warning, may cause some issues).
After enabling the toggles users will need to kill every app on their iPhone for the effects to take place. Users can quit all apps by accessing their multitask and swiping up on each and every app if they do not have a tweak that will allow them to kill all apps at once.
Not every application looks complete in Eclipse, like iTunes, Safari, Notes, or Calendar and some like Mail or Phone look good with the omission of a few areas, but all in all it has the potential to be beneficial, just take a look no further than settings running in Eclipse mode.
Even though Eclipse needs some improvement it's a step in the right direction and it only cost 0.99 cents from the BigBoss repository.
Here are some tips from Guillermo so far:
"TIP: If you're having trouble with some apps, disable "Darken UIViews" in settings."
"Statusbarfix2 seems to darken the status bar when paired with eclipse. Not sure why you'd even need that, But I'll look into it…"
"Eclipse uses almost no memory/resources, it will not have a negative impact on battery life."
"For Tweetbot users experiencing conflict with Eclipse, turn Tweetbot's Night Mode On as well, until I address this issue."
"Eclipse attempts to darken most of the iOS UI"
"iPad support will be out very soon. New features coming as we'll. Stay tuned"
"should be working on the iPod touch… Let me know if there's any issues."
And here are some questions answered:
"will you be including like a automatic mode to enable it like do not disturb like for scheduled times" – yes
"Are you planning on making safari dark in an update?" -yes
"even with eclipse enabled, it still won't tint iTunes." – yep, that's a bug I'll fix soon
"Are there any plans to add a feature to disable eclipse in certain apps?" -yes
"Eclipse is looking good, keep it up! PS. Suggestion: scheduled mode." -yes
"Interest not request – Would it technically be possible (coding wise) for Eclipse to gradually change over time, similar to F.lux?" -yes, that's a planned feature already.
Let us know what you think of the tweak in the comments.