There are currently a lot of Cydia tweaks being released right now to change not only the look and feel of iOS 7, but the functionality of the OS as well. We have previously covered numerous Cydia tweaks that you should check out, but over the last few days there have been some very neat tweaks released that you won't want to miss. So here are xxx Cydia tweaks you should check out this weekend.
The first tweak is Nitrous. This tweak isn't new, but it was updated for iOS 7 compatibility and is without a doubt worth the install if you use a browser other than Safari on your iPhone, iPod Touch or iPad. What the tweak does is allow you to use Apple's Nitro Javascript engine across 3rd-party apps. The Nitro engine is typically only available in Safari due to limitations enforced by Apple, so browsers like Dolphin or Chrome are considerably slower in rendering web pages versus Safari.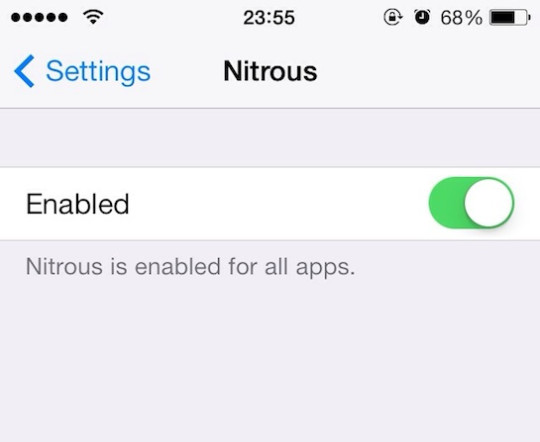 With Nitrous, however, speeds almost match Safari as you can see by a V8 benchmark comparison done by Lifehacker of Chrome running the iOS 6 version of Nitrous.
Chrome without Nitrous Score: 96
Chrome with Nitrous Score: 347
Safari Score: 360
You can find the Nitrous Cydia tweak in the BigBoss repo for $0.99.
Unlike Nitrous, the Bigify Cydia tweak isn't huge in regards to functionality, but rather aesthetics. The tweak will allows you to hide icon labels, which allows for a minimalistic experience that is very pleasing to the eye. The ability to adjust other icon related settings on iOS 7 like rotation angle, transparency, scaling and much more will be coming in a future update from developers John Corbett and Joel Einbinder as well.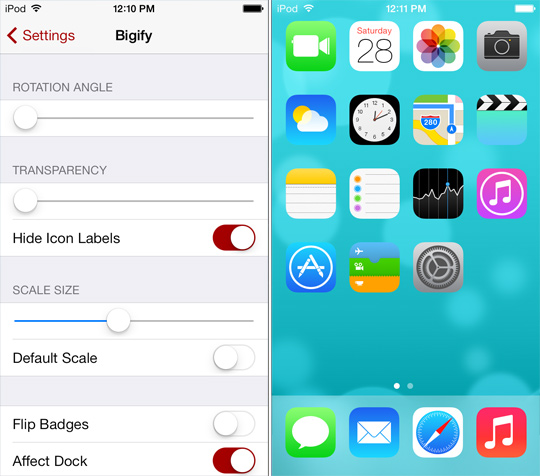 Bigify is also available free in the BigBoss repo.
Next up is Emphasize by Ryan Petrich. Despite the fact the tweak hasn't been officially updated for iOS 7, it still functions and allows you to customize the color of toggle switches, app labels and much more. There are a ton of color schemes that can be applied that includes Orange, Chocolate, Chameleon, Sky Blue, Plum, Scarlet Red, Viridian, Olive, Steel, Sienna, Watercolor and Hot Pink.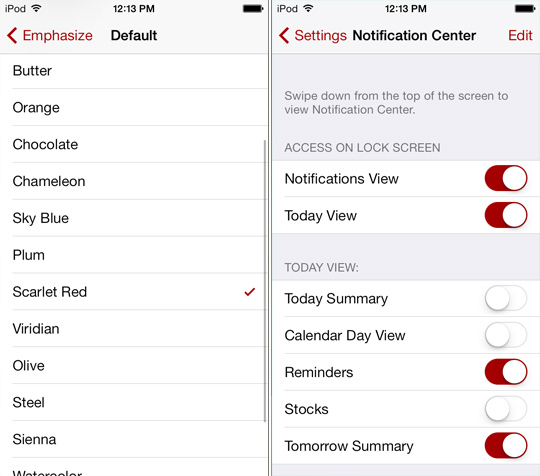 You can find Emphasize in Ryan Petrich's private repo: rpetri.ch/repo for free.
The iCleaner Pro Cydia tweak has recently been optimized for iOS 7 in version 7.1 and what the tweak does is scan the iOS filesystem to find and remove unnecessary files like half-installed Cydia packages, huge caches in apps like Facebook and Instagram, as well as tons of junk in Safari. This will increase the free storage available on your iOS Device and increase performance in some instances.
You can find iCleaner Pro 7.1 beta for free by adding the repo: exile90software.com/cydia/beta/. 
Lastly we have the FlipControlCenter which was previously teased by Ryan Petrich. What the FlipControlCenter Cydia tweak does is add more setting toggles and features to the top row of the control center. This includes the ability to rearrange the position of the toggles and make the toggles scrollable by adding new ones like Respring or Vibration.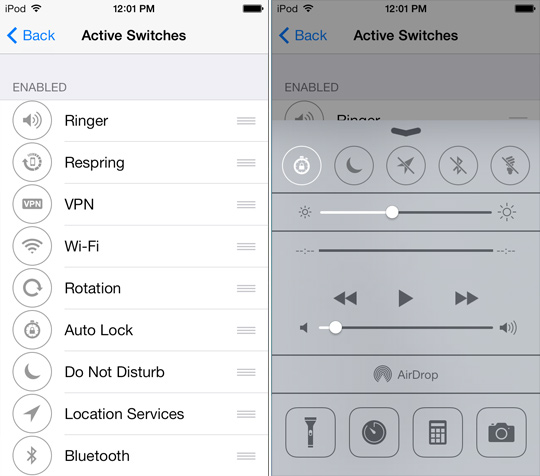 You can find FlipControlCenter  in Ryan Petrich's private repo: rpetri.ch/repo for free.