Have you ever been so focused while using an application or playing a game on your iPhone, iPod Touch or iPad and a notification banner pops up, then when you go to dismiss the banner by swiping on it, you accidentally launch the app belonging to the banner?
I know for one I have and it is extremely annoying!
With the Cybernetic Cydia tweak you can make iOS notification banners less disruptive thanks to some added options that allow you to configure the functionality of the banners.
Once you install Cybernetic you will find a new section for the tweak in the Settings app and you can toggle: tap a Notification banner to dismiss it, Pan (swipe) down a notification banner to launch the application and get rid of all notification banners.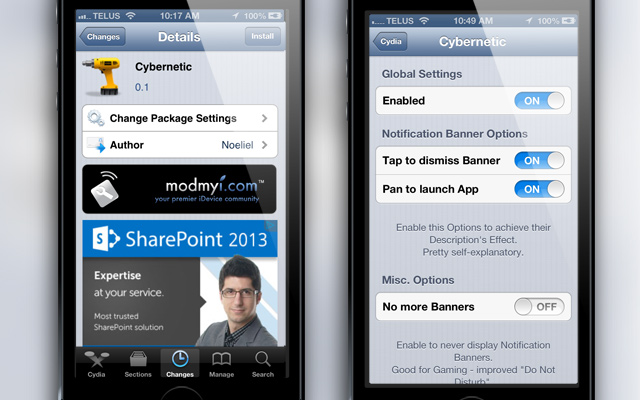 Just having the ability to tap on notification banners to dismiss them is an awesome feature to have and being able to still launch apps from the notification banners by swiping down is the cherry on top!
If you are interested in the Cybernetic Cydia tweak you can find it in the ModMyi repo for free. Let us know how you liked the tweak in the comments section below.