A tool is only as good as the people who use it. Remote logging software could be used to secure your possessions, and it could also be used against you to steal your personal information, invade your privacy, and embarrass you. Copy10 is the newest piece of self-fashioned spyware to hit Cydia. It claims that it can log GPS coordinates, SMS calls, Call history, contacts, visited URLs, and photos as well as having the ability to preform 'remote uninstall' and ambient voice recordings.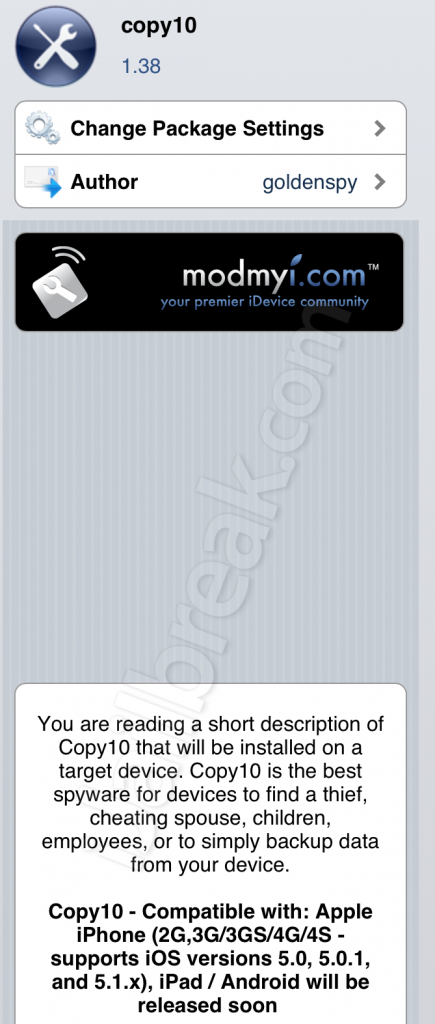 While you might have legitimate security uses for a service like Copy10, the language used on their website makes the hair on my neck stand on end. Statements like, "you have to have the target phone in your hand at least 1 time to download and install Copy10 into target smartphone," reveal that the intended devices might not belong to Copy10's customers. Installing spyware on a password protected computer without the user's consent, even a spouse's, is legally questionable at best (and is explicitly illegal in certain states). According to a newsletter from the American Bar's website, if you're hoping to take someone to court with the evidence you obtain with spyware, your case may be thrown out.
What's troubling is that Copy10 is designed to be "100% undetectable," leaving no evidence on the Springboard, Settings panel, or even any signs of installed packages in Cydia. That said, there are ways to find out if someone is spying on you through your iPhone or iPad. Copy10 is a paid app, which means that if a spouse is snooping on you, there should be a bill for the service. More laughibly, Copy10 has a promotion currently running where users can get a 5 day trial of the premium service by liking their page on Facebook. If your spouse is liking pages for spyware on Facebook, you might want to leave for reasons of bad judgement alone.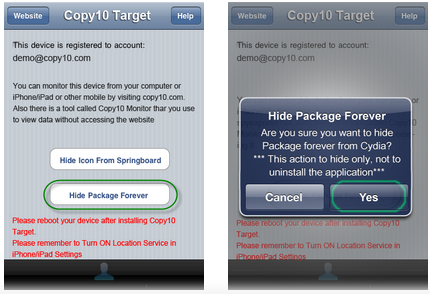 The important takeaway message is not to leave your iPhones, iPads or iPod Touches unattended. Someone could install Copy10 for an even more nefarious purpose. Also remember that any spyware attack can be thwarted by restoring the firmware on your device. If you have non-slimy motives for using Copy10, you can find the package in the ModMyi repository on Cydia.
How do you feel about spyware? Share your thoughts in the comments section below.