Yesterday a new tweak was released into Cydia called CloudyShots! This tweak will dynamically allow you to upload screenshots taken with your iDevice to the cloud, using API's from CloudApp. What is CloudApp? Well CloudApp allows you to share images, links, music, videos and files over the web through an easy to use web interface. This means that with the cloudyshots tweak and the cloudapp service, you can share screenshots from your iDevice with your friends in a matter of seconds! Now the surprising thing about the cloudyshots tweak is it is actually a completely FREE tweak. Which is a very rare thing for a tweak of its caliber; in fact a tweak with almost the exact same functionality called SB 2 cloud will cost you $1.49 from Cydia.
This is definitely a tweak you should take advantage of while the author still offers this tweak for free.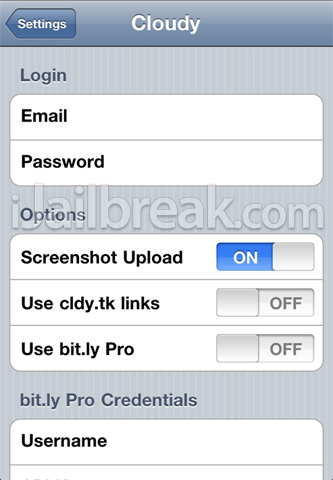 Alternatively if you wish to use a cloud storage service that offers more robust features, you can use bit.ly Pro instead of the CloudApp. Overall Cloudyshots is a great tweak and we would recommend it to anyone that wishes to add cloud-storage functionality to their iDevice. Let us know if you decide to use the CloudyShots tweak!