ChooseMyFunction is a shortcut app, which allows for you to assign an action to an icon on the SpringBoard. The current actions include a Respring, Safe Mode, Sending a SMS message to your "Mum", "Dad", or nobody in particular, launch Cydia, or launch Safari.

Unfortunately, ChooseMyFunction has its limitations. Most of the current functions are redundant. I can't think of a single reason why I would activate Cydia or Safari from MyFunction instead of clicking on their own icons. Similarly, there are already Respring and Safe Mode buttons in popular tweaks like SBSettings.
The "Send SMS to" functions are the most useful option of the bunch, since it acts as a shortcut to that particular person, but doesn't work properly on the iPad. It will open up Messages, but You can't edit the contact names or addresses in Settings. Unless you rename your contacts to Mum or Dad, it's of limited use.
[Update: As I was writing this article, M_Vincent_M pushed ChooseMyFunction version 2.0 through Cydia. The iPad version can now set numbers (or email addresses) for Messages, and the app recognizes Chrome.]
Another nitpick for the iPad: ChooseMyFunction, in its current state, won't launch more than one app at a time. While this behavior is sensible in most cases, the ability to launch several apps at once would be a useful shortcut for Quasar. The ability to open a browser, a work processor, and some local reference material with one button press would be useful.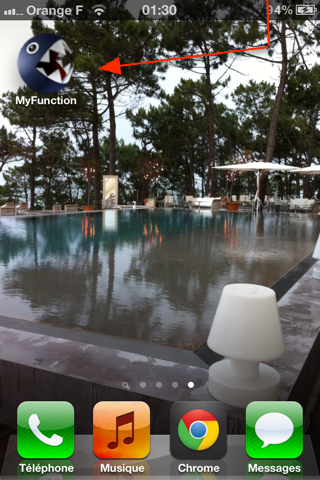 Since the developer (@M_Vincent_M) is hinting at future updates, here are a few features that would be useful for a shortcut app: launch any app installed on the device, stand in as an Activator gesture, direct to a webpage/bookmark, set a predefined script for MobileTerminal, support for more than one action.
ChooseMyFunction is available for free on Cydia in the BigBoss repository.
What shortcuts would you like to see in ChooseMyFunction? Share your thoughts in the comments section below.