If you have ever thought to yourself it would be great if you had the option of cancelling an app update before it starts installing then you will want to check out CancelUpdate. As its name intends it gives you the option to cancel an app update as long as it is in the download phase. This is useful in case you find out an app update removes specific functionality you like, adds something annoying like ads etc.
To cancel an app update with CancelUpdate you simply enter wiggle mode and tap the X on the app's icon like you would if you were going to delete it. Doing so brings up a dialog window asking you if you want to really cancel the app update.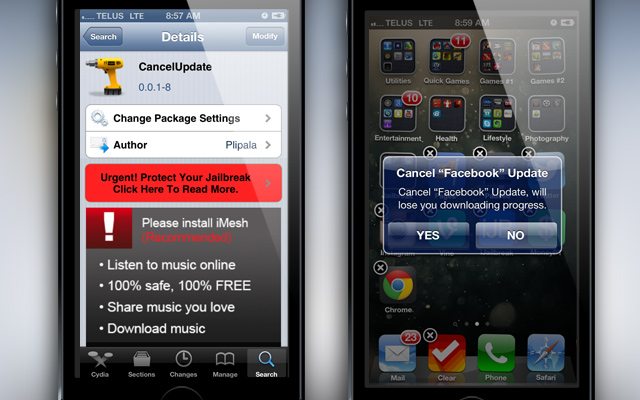 Due to the fact that some app updates are very small in size you will need to be quick in cancelling as if it enters the installing stage then you will not be able to cancel the update. CancelUpdate is going to be one of those tweaks that appeal to very few people and probably won't get used that often, but… better safe than sorry.
You can find CancelUpdate in the BigBoss repo for free. Let us know what you think of the tweak in the comments below.