If you insist on using a mouse and keyboard with your iPad (or, less likely, your iPhone) you've probably heard of BTStack Mouse and BTStack Keyboard. Reaching for a touch screen while typing can be awkward, so mouse support is a huge advantage. The problem with the custom BTStack drivers is that they don't work in tandem with Apple's default bluetooth drivers – you have to switch between one and the other. This means you can't take advantage of wireless headphones or bluetooth tethering while using a wireless mouse and keyboard.
BTC Mouse & Trackpad demonstration
Matthias Ringwald, the developer behind the iOS BTStack Mouse and BTStack plugins has released a new tweak on Cydia called BTC Mouse & Trackpad. BTC Mouse & Trackpad takes advantage of another recent utility that Ringwald developed: Bluetooth Companion. Instead of making a new bluetooth stack, Bluetooth Companion allows plugins to extend iOS' native bluetooth implementation. That means you can connect to the internet, use a mouse and keyboard, and listen to music at the same time through your bluetooth connection.
If that was all BTC Mouse & Trackpad is capable of, it would be a favorable alternative to BTStack Keyboard (& Mouse). To sweeten the deal, Ringwald has added a few extras in his new plugin. BTC Mouse & Trackpad includes improved mouse navigation support: mouse scrolling back and forward on the springboard, scroll wheel zooming, and a new swipe emulating presentation mode which can be set per app. (The plugin also includes 'experimental enhancement' for the Jump Desktop VNC client.)
The BTC Mouse & Trackpad plugin costs $4.99, though if you already shelled out for BTStack Keyboard the price drops to $2.49. Depending on your bluetooth needs, it might not be worth the upgrade, but if you're deciding between the two, go with BTC Mouse & Keyboard. The plugin can be found in the BigBoss repository on Cydia.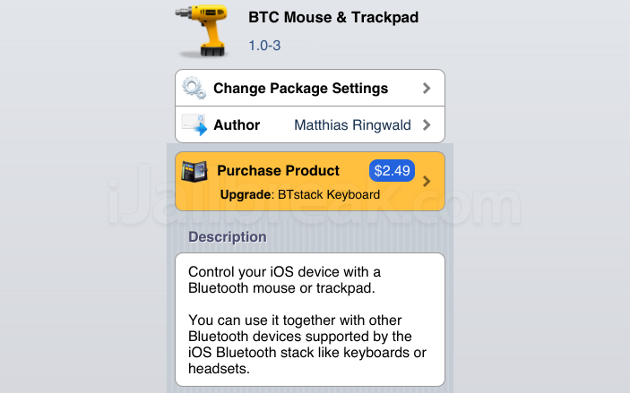 Do you need to upgrade to BTC Mouse & Trackpad, are the old BTStack tweaks good enough for you, or are you one of the rebels with a Camera Connection Kit and a USB mouse? Share your thoughts in the comments section below.