If you use the Google Chrome browser on your iPhone, iPod Touch or iPad then you are absolutely going to fall in love with the BMarks Bar – Chrome Cydia tweak. Essentially what this tweak does is bring a bookmarks bar to Google Chrome, they way it should have been from the start.
There is Bookmarks folders support and even sub-folder support and it is highly customizable. From the preferences panel in the Settings app you can configured whether or not you want to display bookmarks from Mobile or Desktop, you can set the bar height and mac bookmark width, along with the text size, icon size and folder bookmark height. There is even some beta functionality that includes displaying the bookmarks bar in FullScreen and panning above to dismiss.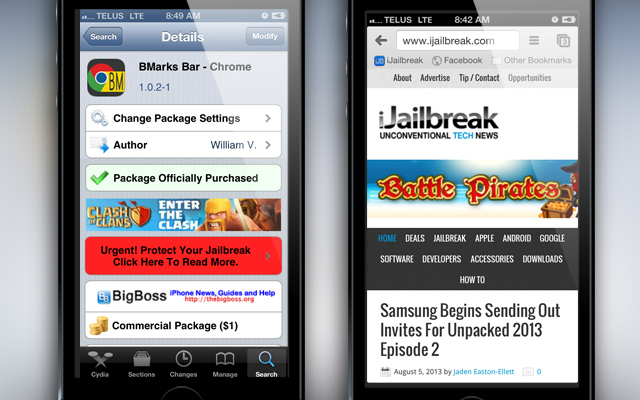 When you adjust these Settings you actually don't need to respring either, rather you will simply need to relaunch the app.
After using Chrome with BMarks Bar – Chrome installed you will wonder why Google didn't include this functionality by default. It really changes the Chrome experience for the better. If you are interested in the tweak you can find it in the BigBoss repo for $1. It is compatible with both iOS 5 and iOS 6. Let us know what you think of the tweak in the comments section.