A new Cydia tweak has just went into beta that you are sure to love! The tweak is called LyricFlow and essentially an infusion of iTunes 11 into the stock Music app on iOS.
You see, with iTunes 11 there is a new interface that detects colors used in album art to create an aesthetically pleasing way to listen to music. LyricFlow is an attempt to recreate this experience on iOS.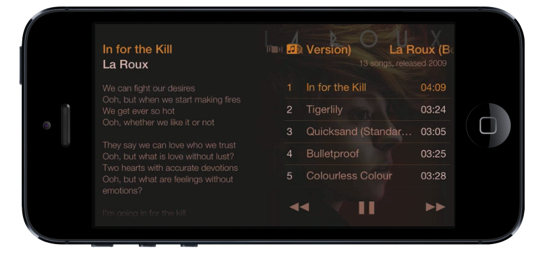 This is what LyricFlow's developer Eric Castro had to say about the tweak "[LyricFlow is] highly focused on aesthetics, visual effects, and simplicity. Interface color scheme matches album artwork as seen in iTunes 11. By the way: effects and transitions are WAY smoother in the real app. But this was the best quality and FPS I could get using Display Recorder."
The best way to get a feel for LyricFlow isn't to read about it though, but watch it in action. Check out this teaser video of LyricFlow from Castro below:
If you would like to test out LyricFlow for yourself you will be glad to know Castro has created a private beta testing repo that you can add to Cydia. This can be done by going into the Manage tab, followed by the Sources section, tapping the edit button and finally the add button.
http://beta.lyricflow.com/repo
When the repo has been added go inside of it and you will find two packages: a standalone LyricFlow app and one that integrates into the stock iOS Music app. Right now the one with integration into the Music app is very buggy so I would suggest sticking with the standalone app… but the choice is yours.
Let us know what you think of the tweak in the comments section. Are you excited for its official release?