If you find that your iPhone's signal strength is never very accurate then you will be glad to know there is now a solution to this problem. Introducing the Bars Cydia tweak — A tweak that will make your iPhone's signal strength indicator more accurate. Essentially how the Bars Cydia tweak accomplishes this is by displaying half bars instead of rounding to the nearest full bar like on the stock iOS. Meaning if you have 3.5 bars of signal, the fourth bar will only be a half.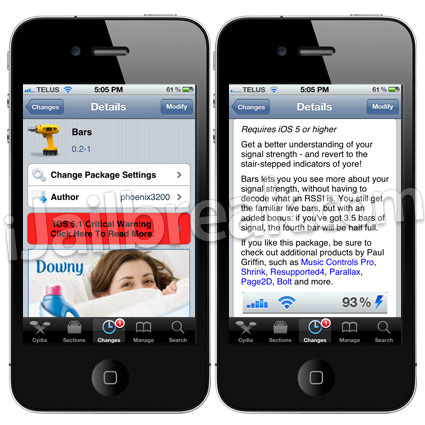 I personally find this tweak to be useful because I live in an area that tends to not get very good reception. Thus, with Bars installed I feel like I am shown a more accurate representation of how much signal strength I actually have.
For those who are interested in the Bars Cydia tweak you can find it through the BigBoss repo for FREE. Let us know what you think of the tweak in the comments section below.