As predicted, Auxo 3 is now available for download from the Cydia Store. Auxo is a tweak that adds some cool multitasking features to iOS and makes switching apps etc much easier. Auxo 3 is the newest iteration of the tweak and brings iOS 8 compatibility and some new features.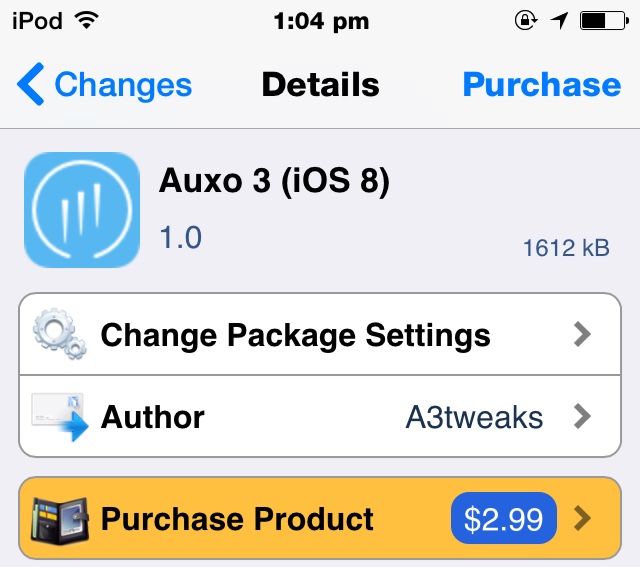 The tweak has three important features, namely, the Multi-Center, Quick Switcher and Hot Corners. Multi-Center is a cross between the App Switcher and the Control Center, allowing you access to both by sliding up from the bottom of the screen. It also lets you do a lot of other things such as view full app previews, close all running apps and more.
Quick Switcher lets you switch between apps in the most easiest way. Simply swipe up from the bottom left of your screen, slide to the app you want to switch to and that's it. Hot Corners lets you allot the bottom left and right corners to quickly go to the Homescreen or to the Multitasking view. All the core features can be configured to your liking from the Settings app.
Below are some of the other features that Auxo 3 gives iOS 8 users.
With reachable display, Multi-Center is dynamic allowing you slide up/down on the darker playback area to switch to in and out of a minimal display.
Tapping the icon in the middle of the circular sliders let's you perform an action; either toggle auto-brightness/ringer, or simply quickly set a slider to minimum.
In addition to sliding down on an app card to expand, you can also slide on the main app icon, or anywhere beneath the icon in the empty space (more reachable).
Smoother and quick flick gesture recognizer for MC, in additional to dynamic sliding.
More organic Quick-Switcher that tracks your finger vertically as well, in order to allow you to see the app icon and gives more lee-way when sliding.
Inverted hot corners allows you to still use Quick Switcher (from the right corner) if you so choose.
You can access the home screen via the Quick Switcher if you move right then back left to slide over to it.
Reachable display mode that places toggles on the bottom, for easier one-handed use (especially on the new devices).
Slider indicator icons are change subtly to represent the slider value.
Auxo 3 is currently available in Cydia for $2.99.