Appfront: Combine Skype, WhatsApp And Viber Into One Application
Do you love the iOS applications WhatsApp, Viber and Skype, but hate that you don't know which friend is using which app? Well, thanks to the AppFront Cydia app you now have the easiest way to use Viber, WhatsApp and Skype on the iPhone, iPod Touch and iPad. This is because instead of using 3 programs you can use the standard phone app to quickly make calls or send texts to all three services. Meaning you can save Save $10's of dollars each month by actually using the free apps mentioned previously.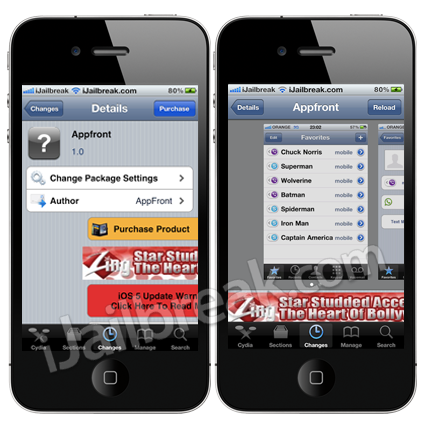 You can find Appfront through the BigBoss repo for $1.99.
LikeCheckIn: Easily Check In Through Facebook
Would you like a quick way to let your Facebook friends know where you are and what you are up to? Well, if you would, you will be glad to know that thanks to the LikeCheckIn Cydia app you can easily check in through Facebook and let your friends know what you are up too! The app, while running in the background, will identify your static location (when you are not moving) and will remind you to check in with your Facebook account (without needing to open the official Facebook app).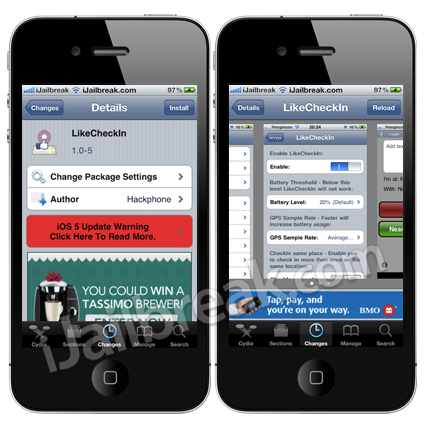 If you are interested in the LikeCheckIn tweak you can find it through the BigBoss repo for free.
Twicon: Add A Twitter Shortcut To Your Homescreen
The Twicon Cydia tweak takes advantage of Twitter's built-in integration on the iOS 5 firmware generation by allowing you to compose a Tweet by simply clicking on an icon on your SpringBoard (homescreen). Essentially all the tweak does is create a shortcut on your SpringBoard allowing you to tweet natively on the iOS 5.0/iOS 5.0.1 firmware.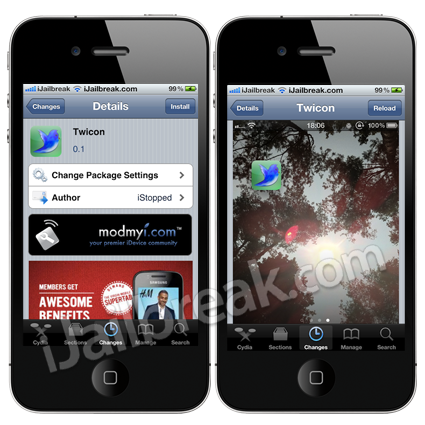 If you are interested in the Twicon tweak you can find it through the ModMyi repo for free.
EnablePanorama: Enable Panoramic Camera On iOS
If you have always wanted a quick and easy way to enable Panoramic functionality in the default Camera.app then you will be glad to know that this is now possible. Thanks to the EnablePanorama Cydia tweak, you can enable Panoramic Camera on the iPhone and iPod Touch running the iOS 5 firmware with a Gyroscope. When you enable Panorama mode with the tweak you will be glad to know it is integrated in a native way that will leave you wondering why Apple does not include this functionality in the stock iOS 5 firmware.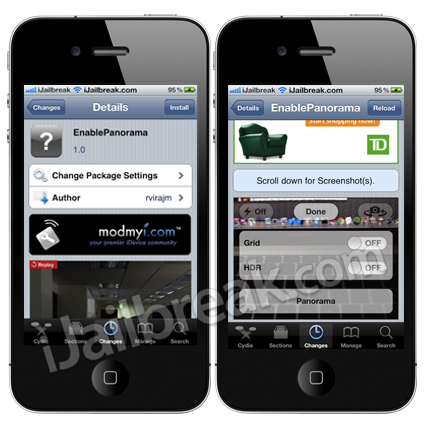 You can find the EnablePanorama tweak through the ModMyi repo for free.
Please share your thoughts on these jailbreak tweaks in the comments.