Apex was released a few days ago, and it is a tweak that you won't want to miss because you don't see its kind very often.
Just what do I mean by this?
Well a lot of the tweaks you see nowadays are rehashed tweaks we have seen in the past with a slightly different spin. Apex is a whole new ball game, however, and it changes the way you group applications by essentially allowing you to stack them on top of each other.
You can place applications on top of each other by simply swiping on an app icon and then tapping one of the '+' buttons which will bring up a list of applications you can choose from to add them to the group. Once you will up all of the free space for that particular group you can press the home button to set them in place.
Now when you tap one of these application groups instead of launching the application directly it will bring up the group applications. This is useful for grouping all of your Facebook specific applications in one stack, allow your music applications etc. When the applications are grouped as well you will notice app icons appear around the edges of the main application.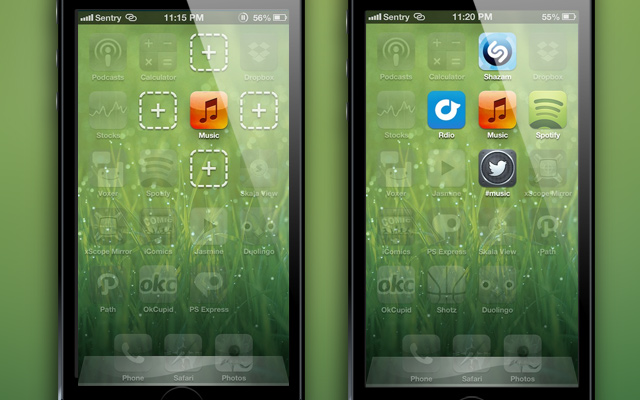 The only configurable option associated with Apex right now is 'Show Preview' which toggles whether or not you can see other application icons behind the main application like we talked about previously. Other than that Apex works right out of the box and is a must have tweak. You can find it in the BigBoss repo for $0.99, which is a steal.