AlwaysArrange: Arrange SpringBoard Icons Without Long-Pressing
To re-arrange icons on the SpringBoard, you would normally have to long-press the icon till it starts to wiggle and then place it wherever you want. Here's a better way of doing it and doesn't require any long-pressing tactics. A new Cydia tweak lets you move and arrange icons without having to make them wiggle.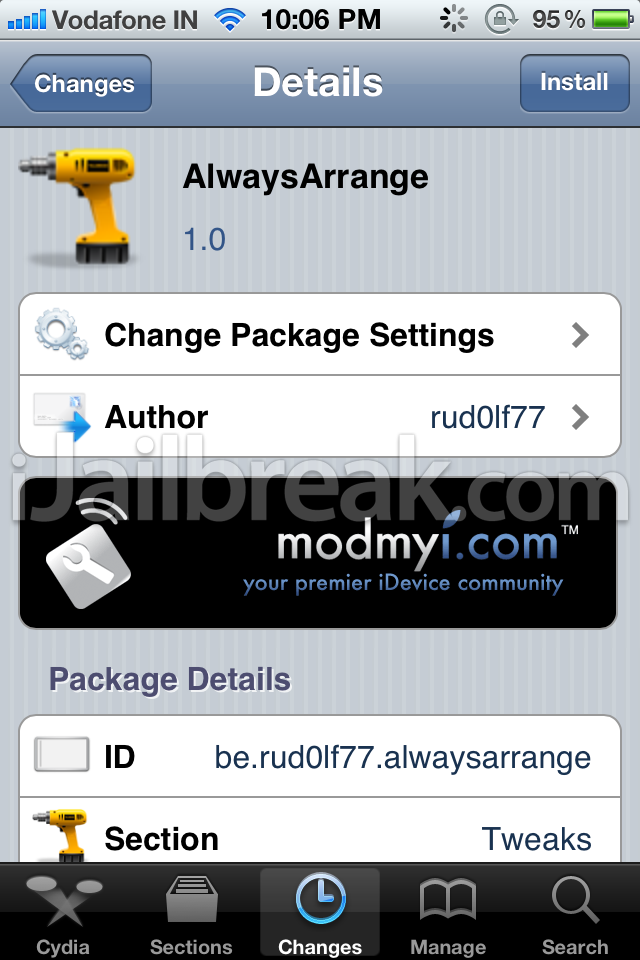 AlwaysArrange Cydia tweak lets you re-arrange icons on your homescreen without having to long-press and wait for them to start wiggling. The tweak's job is simple as that and it actually works great. Re-arrange icons whenever you want on your iOS device's homescreen. All you need to do is tap on the icon and move it. To make sure that you don't move icons accidentally, there's an option to adjust the amount of time you need to hold an icon to make it movable. The configuration option is available in the Settings app.
You can download AlwaysArrange from the ModMyi repo for free.
NcMusic: Add Play And Next Buttons To iOS 5 Notification Center
The iOS 5 Notification Center is unlike any other notifications system if you have a jailbroken iOS device. The jailbreak community has provided many useful tweaks that make tasks such as taking photos, sending messages and more, very simple. Here's another Notification Center tweak that adds a Play and Next button to the Notification Center.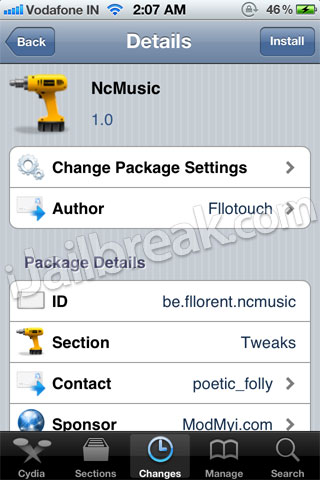 The NcMusic Cydia tweak lets you easily Play or Pause music and change the tracks right from the Notification Center. Just pull down the menu and you will see two buttons labeled Play and Next at the bottom of the tray. The play button pauses and plays music from the music app and the next button only jumps to the next track. Unfortunately, the developer thought adding a Back button and showing track details was uncool. That's all there is to this tweak. No options to be configured, no icons or anything.

NcMusic is available in the ModMyi repo for FREE. Although, I hope that the developer adds a Back button soon, as that would be useful too. What do you think?
CharaCount For Notes: See The Character Count In Notes.app
Sometimes it's good to know the number of characters that you're typing. When writing notes or doing an assignment, keeping a count of the characters typed can come in handy to know if the limit has been crossed or not. We use the Notes.app in iOS to take down a lot of important things, so here's a tweak that will let you know how much you've written.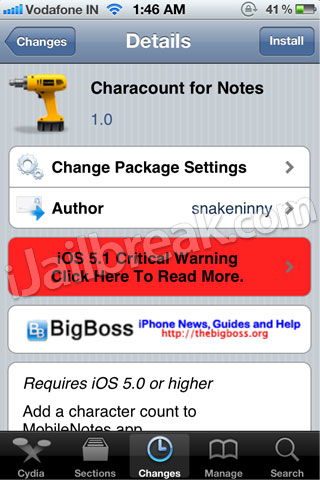 A new Cydia tweak called CharaCount for Notes adds a character counter at the top of all your notes. When you use the Notes.app to create a new note, you will now be able to see the number of characters that you're punching in. It is, trust me, useful for certain people. A word counter could also be useful for some, as I personally prefer seeing how many words I've written rather than the characters. There are no options to be configured, just install, respring and go!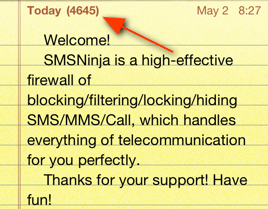 In case you've been on the look out for such a tweak, you can download CharaCount for Notes from the BigBoss repo for FREE. Try it out and tell us if you find it useful in the comments section below…
SpotDict: Quickly Find Word Definitions Through iOS Spotlight
Here's a useful tweak that all word lovers should have on their jailbroken iOS device. The Spotlight feature of iOS lets you look for almost anything on your iDevice, and with this tweak you can look for word meanings too.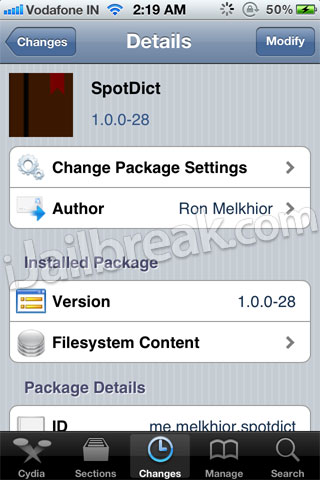 SpotDict is a new Cydia tweak that adds a Dictionary button right next to the search box in Spotlight. To look for the definition of a word, just type it in Spotlight and hit the SpotDict button. The iOS dictionary will open up instantly with the results. Of course, with iOS 5 you already have to ability to look for word meanings by selecting the word and clicking on Define, but this is useful too. Suppose you're reading a book (not ebook) and want to look up a word meaning, you can use your iPhone or iPod Touch and get the result instantly.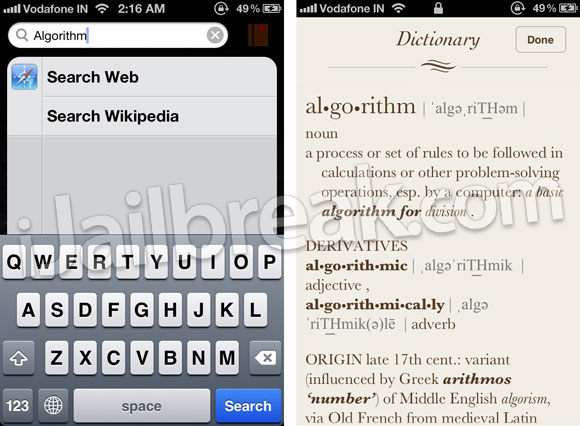 SpotDict is only supported on the iPhone and the iPod Touch and is a FREE tweak. There are no settings whatsoever. You can download the tweak from the BigBoss repo and try it out for yourself.