Have you ever had the desire to customize the look of your iDevice without the need of WinterBoard? If you had you may be glad to know that a new tweak called AlertArtist was just released into Cydia! AlertArtist allows you to customize the appearance of all alert dialogs on your iDevice. You can Choose from a number of included themes, or even create your own theme through an easy to use interface!
AlertArtist allows you to customize the following properties of an alert dialog:
Background Color/Opacity
Border Color/Opacity
Shadow Color/Opacity (Experiment with colors other than black to produce a "glow" effect!)
Text Color
Text Shadow Color
Title Font/Size
Body Font/Size
You can take a look at what is possible with AlertArtist in the screenshots below (Left: customized dialog box. Right: customization interface).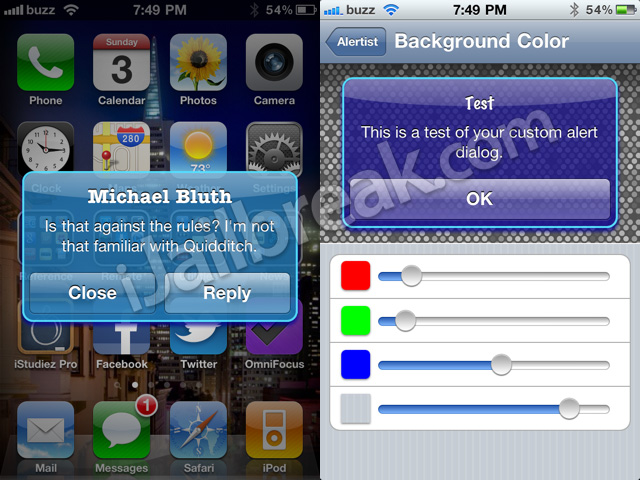 If you are interested in customizing iOS dialog boxes without the need of WinterBoard you can find the AlertArtist tweak through Cydia for a price of $0.99. Let us know your thoughts on this tweak in the comments section below.