Have you ever been stuck sharing your iPad with other family members/friends and gotten annoyed when they have changed your iPad's settings? Wouldn't it be nice if you could make your iPad more like a desktop computer in the fact that you could set different user accounts?
Introducing the FREE iUsers Cydia tweak. iUsers was created with one purpose in mind – to bring user accounts to the iPad. Meaning you have the ability to customize what certain users can access while on your iPad. Each user can be customized to have a different home screens, settings and restrictive access to apps (which will be protected by a passcode).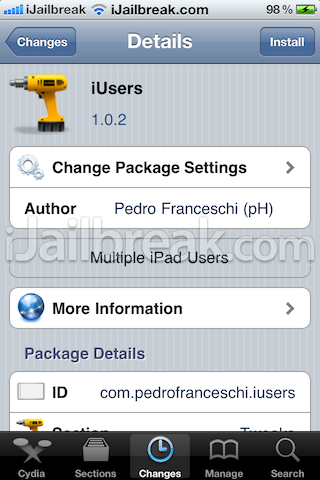 In short. Basically what will happen when the iUsers tweak is installed on your iPad is when you turn it on. You will come to a screen with the users you have created (just like on the Windows/Mac OS X operating systems). Upon clicking on the user you wish to use you will have to enter a passcode (if set) and then you will gain access to that account.
For a better understanding of the iUsers Cydia tweak take a look at the official YouTube video below:
If you have an iPad the iUsers tweak is definitely something I would check out. Especially because it is available for FREE. All you will need to do is add the developers repository in Cydia (Manage > Sources > Edit > Add):
Let us know what you think of the iUsers tweak in the comments section below.
Update #1: The iUsers Cydia tweak is NOT compatible with the iOS 5+ firmware. Users may experience SpringBoard crashes and may be forced to restore their iOS device.