Intelliborn, the developers behind one of the most popular Jailbreak tweaks of all time, IntelliScreenX previously announced that the first beta of IntelliScreenX 7 for iOS 7 would be available this week. Unfortunately the beta has been deleted but to make up for it a new video and a few screenshots have been posted. For those of you who haven't heard of IntelliScreenX before the tweak allows you to access things such as your emails, Calendar, Twitter feed, Facebook etc all from your lockscreen without having to unlock your device. The video preview of IntelliScreenX 7 for iOS 7 showcases a flatter look and all of the quick access functionality.
You will also be able to access IntelliScreenX from the Notification Center, meaning the power of being able to access all this information is only a swipe away. IntelliScreenX also includes Messages+, which will enhance the stock Messages app to function almost like BiteSMS with quick compose and quick reply functionality.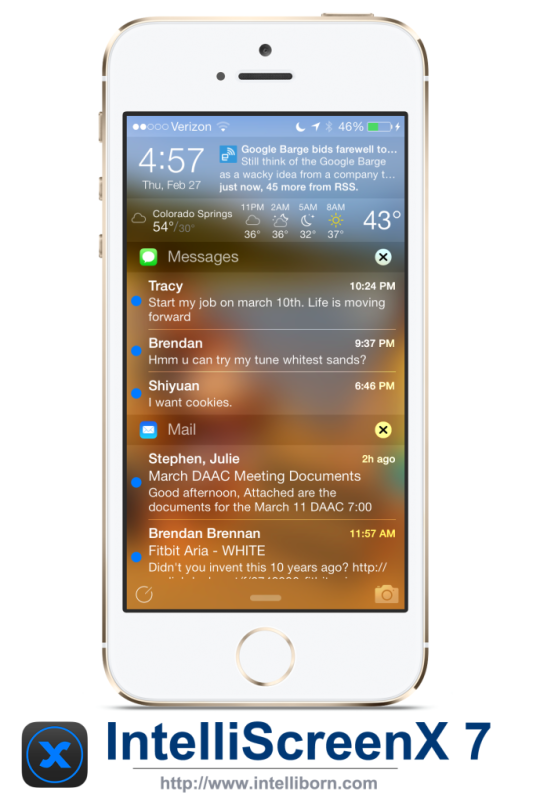 We are not done yet though. The tweak will also include a new "slide" feature which is essentially multitasking on iOS reimagined. You are able to switch between apps without having to leave where you are.
Upon "sliding" a vertical panel with a list of icons with appear where upon tapping on them will give you a real-time, interactive preview of the app. The list of icons can be rearranged and customized based on recency and frequency of use. IntelliScreenX 6 users will be glad to know that IntelliScreenX 7 will be a free upgrade. Final pricing for IntelliScreenX 7 has not been announced yet. Are you excited? Drop us a line in the comments section below.