What's the first thing you install after jailbreaking your iOS device? For us, it's Activator by Ryan Petrich. One of the most important and useful tweaks you can have on a jailbroken iOS device. And now, it officially supports the new iOS 8.3 jailbreak.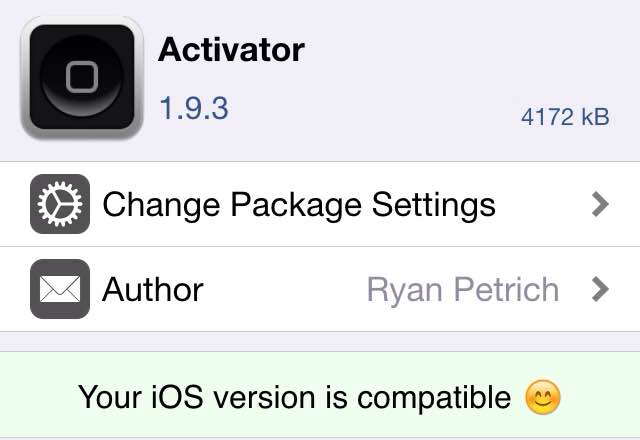 Ryan Petrich, the tweaks developer released Activator 1.9.3 recently, which adds basic support for iOS 8.3.
The update also includes several other improvements and fixes.
If you're a jailbreaker, you're going to need to install the Activator tweak to take advantage of hundreds of other tweaks.
Here's what's new and fixed in Activator 1.9.3:
Basic support for iOS 8.3
Add option to suppress passcode when activating an app at the lock screen
Better support Activator actions written using ARC
Fix unlock to dispatch event behaviour on iOS 8
Make camera shutter action take take photo after the camera app opens, if it needs to be opened
Add custom command actions
Fix VPN settings action on iOS 8
Make the fingerprint sensor hold put the Touch ID sensor into matching mode when assigned
Treat entering deep device sleep as leaving the Wi-Fi network (even if the WLAN interface hasn't left the building yet)
Update localizations
Add system-wide back button action
Support activating actions via URLs (activator://send/…)
Re-enable message events
Allow unassigning more things via swipe to delete gestures
Adjust Touch ID events on iOS 8 to use matching mode less often
Fix dictation action on iOS 8
Fix rare crash in file providers
Improve launch time of message composer actions
Fix custom Siri actions on iOS 8
To install the latest version of Activator, if you haven't already, refresh Cydia and search for Activator. Install it and you're all set!