StayOpened: Keep App Store Open After You Download An App
This morning I talked about a Cydia tweak called App Store Update Size, which improved the overall App Store experience by showing you your apps update sizes. Now another tweak has been released into Cydia which will further improve the App Store experience.
Have you ever noticed that whenever you purchase an app from the App Store, or simply update one of your apps from the App Store, the App Store closes? I for one have, and because the App Store always closes you need to then re-launch the App Store, wait for it to load etc. Wouldn't it be nice if the App Store could stay open after your purchase or update an app? If you answered yes, you will be please to know that a new tweak has been released into Cydia called StayOpened. What does it do? Well, it simply forces the App Store to stay open after you download an app.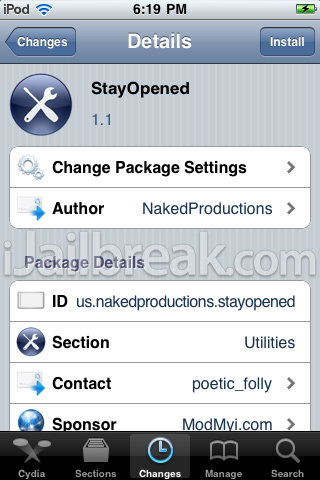 If you are interested in this new tweak, it is available for free via Cydia. Simply search for StayOpened, and it is yours.
WeBe++: A BlueTooth Keyboard and Mouse for Windows/MacOSX/Console
Why buy a bluetooth mouse or keyboard, when you can simply use your iPhone or iPodTouch? Today a new bluetooth keyboard/mouse was released into Cydia called WeBe++. This new bluetooth tweak can act as an external keyboard/mouse for your computer or console system. If this is something you would like to use in partner with your computer (windows/mac) or your console you should deffinately check out WeBe++ via Cydia.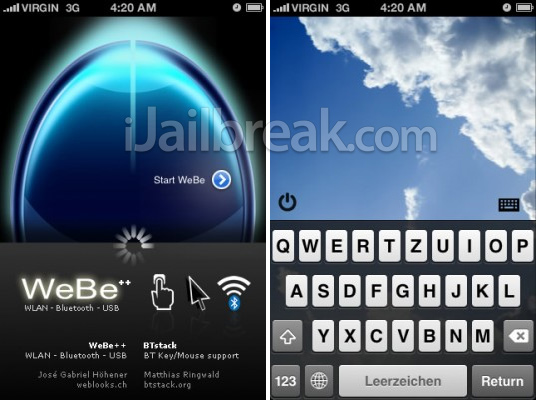 WeBe++ will cost you around $5.00, but is worth it if you are looking into buying a bluetooth keyboard/mouse.
Before you check out this tweak, just a few notes/warnings.
Note: Has been tested to work on iPod 2G and 3G, and all iPhones/iPads running firmware >= 3.0. Also, horizontal scrolling/panning does not work on Windows XP.
Warning: WeBe++ is based on BTstack, an open-source Bluetooth stack. BTstack cannot run in parallel to Apple's Bluetooth. Therefore, WeBe++ has to turn off Apple's Bluetooth. You can re-enable Apple's only after quitting the WeBe++ app. Instead you can use the WeBe Server to use it via WiFi (or Apple's Bluetooth => needs Tethering).
AppStore Update Size: Show How Large Apps Are in the AppStore
One aspect that the official AppStore lacks is the ability to see the update sizes of apps before you are about to update a specific app. While this may not be a feature that everyone may want, it is definitely a feature that I think should be implemented by default. Luckily for all of you who agree with me, there has been a tweak that has just been released into Cydia called AppStore Update Size. This tweak simply adds the file size of app updates that you are browsing underneath the Buy Now button in the official AppStore. Pretty simple, but pretty useful in my opinion.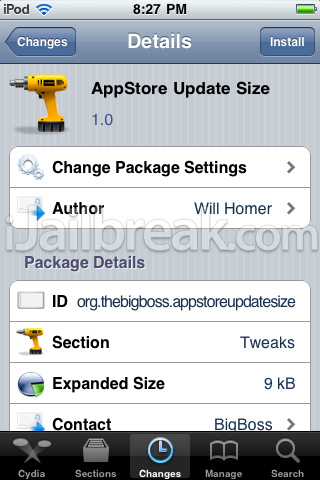 If you are interested in Update Size Tweak, it is available free through Cydia!
Note: In order to get this tweak working (well for me anyway), I had to first install the tweak, then uninstall it and reinstall it. Let us know if this tweak works for you.
Zad0xNET: Another Free 3rd Party Browser [No History,Cookies or Bookmarks]
If you are looking for an alternative browser to the mobilesafari.app, a new 3rd party browser has just been released into Cydia! It is called Zad0xNET, and its purpose is to provide a simple and easy to use alternative to mobilesafari that does not record history, cookies or even bookmarks. Why would you want a browser that does not record site specific information? Well as the app description says, not everyone requires a browser that records website sensitive  information. Zad0xNET simply aims to deliver you the websites you want, nothing more.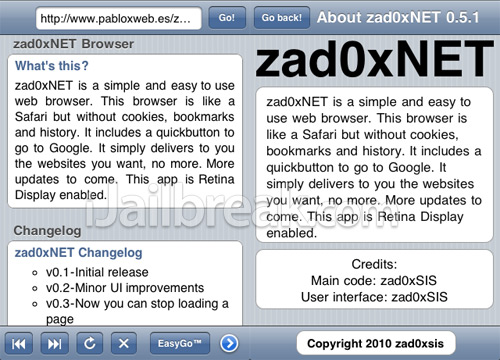 After playing around with the browser, I can conclude that it is actually very stable and responsive. One of my favorite features of the browser, is its EasyGo button. Simply click the button and a dialog box will appear with popular websites listed for ease of access.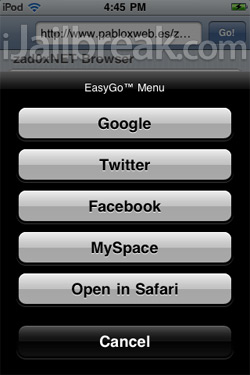 If you are interested in the Zad0xNET, it is available free through Cydia! What do you think of this new 3rd party browser?