If you are an avid user of Google Voice and Google SMS, then you will happy to know an iPhone developer has created a new tweak that will let you integrate GV Voice an GV SMS into your iPhone's built in Phone.app. With these two extensions installed every time you make a call it will be routed through Google Voice automatically (unless you select carrier call).
This means you will not be using up any minutes as your call is being handled through Google Voice over WiFi. Your Google Voice phone calls will provide the same calling experience as carrier calls in Phone app: the real recipient caller ID's are displayed in dialing & in-call interface and in Call History instead of random GV #'s.You will also have the same SMS experience while the GV SMS tweak is enabled, but your SMS messages will be free of cost!

If you are interested in integrating GV Extensions on your iPhone, then you can grab a 5 day trial from Cydia. If you are interested in purchasing the tweak then you can purchase a license either from Cydia or the official GV Extensions website for $2.99.
Update #1: SMS GV Extension: Seamlessly Integrates Google Voice Messaging
SMS GV Extension is a system extension (NOT a standalone application) in Cydia that seamlessly integrates Google Voice messaging service with the iPhones built-in SMS module. For instance, when you send an SMS from the built-in SMS app (or other compliant SMS apps), they are automatically sent via Google Voice account instead of iPhones GSM module; new incoming GV messages are notified and processed as systems SMS. Using the extension, you can enjoy a true free unlimited SMS messaging experience with your favorite SMS application, including the built-in MobileSMS.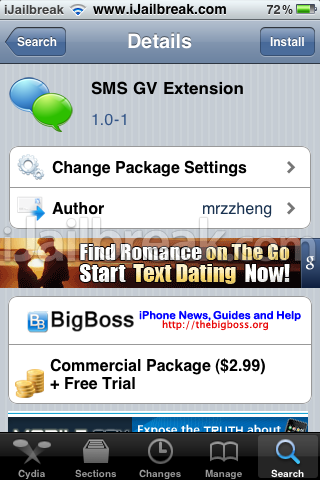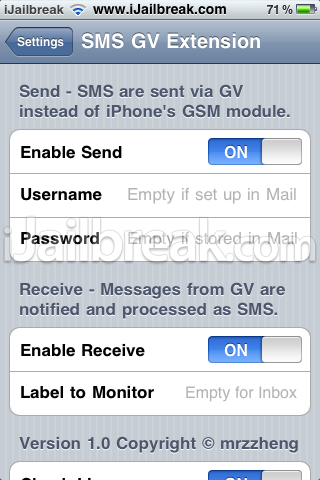 For further information, visit smsgvextension.appspot.com.
SMS GV Extension is available in Cydia via BigBoss repository for free.