I think one of the reasons that more people do not install winterboard themes on their iDevice, is because once you get tired of a select theme. Going back to your default icon layout is a hard and time consuming task. If this sounds like you, you will be please to know that today a very useful tweak was released into Cydia called Backboard. BackBoard is a FREE tweak that will make a backup of how each icon on your iDevice is currently positioned and at a click of a button this layout can be restored. Backboard has been in the works since early May, and it truly is a well polished utility for your iDevice.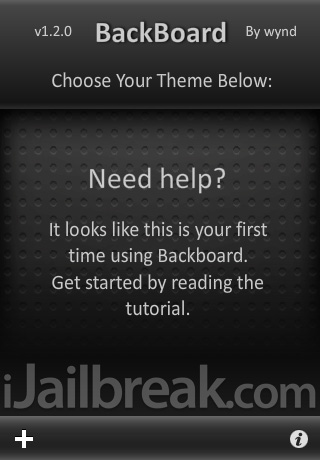 Now that you know a bit about BackBoard, lets take a look at a real example on how BackBoard could be useful to you. Say you want to install a complicated winterboard theme that would mean having to rearrange your icons using an app like blank icons. While the idea of installing a complicated theme on your iDevice may seem like a cool idea, what if you get tired of the theme and simply want to revert back to your stock Theme. What might seem like a simple task, is one that will often leave you having to restore your iDevice; as having to rearrange your icons back to how they were originally is a time consuming task.
Now lets take a look at the same situation, but this time with BackBoard installed. With BackBoard installed you can simply save your stock icon layout, and revert back to it in one click of a button once you get board of a specific theme. With Backboard installed you can also save the icon layout of the complicated themes, so if you ever wanted to install that theme again, you do not have to go through the process or rearranging all of your icons. You would instead simply reinstall the icon layout from BackBoard. Pretty cool huh?
What is even cooler is that BackBoard also comes with some cool features:
One click installation
Fast theme switching
Backup and restore
Theming security
Iconoclasm support
Dependency Checker
Simple layout, with theme preview
Custom installers that can link to backboard
Backboard is also implementing a security check for themes.
"With the latest outbreak of theming piracy in other forums, it is best to add piracy protection you your themes. Backboard has a blacklisting system that will check my servers every time a theme installation is made. This way, I can live update the list if new pirated themes were to be released, without having to update the app itself. If you are a theme developer, then adding you theme to Backboard can be done through a single email" – Dev wyndwarrior
If you are interested in BackBoard, as we said above it is available FREE through Cydia! Lets here your thoughts on this new free utility for your iDevice.