Apparently Encyclopædia Britannica Inc is still in business in the Age of Wikipedia and they have released an updated version of their iPhone and iPad client apps. The iTunes page for the Britannica app proudly states that they have "over 80,000 articles – expertly written and thoroughly fact-checked – on everything from A-Rod to Zebras." While Britannica has far less content than Wikipedia, their contributors "include over 100 Nobel Laureates plus subject gurus like Bill Clinton, Tony Hawk, and Desmond Tutu."
At the time of writing, Wikipedia English has almost 4 million articles (If you want it all on your harddrive, that's about 35 Gigabytes uncompressed). Wikipedia is an open wiki which can be edited by anyone, but has safeguards on their content such as requiring citations from external sources as well as privileged users who can lock articles in the event of vandalism or page edit wars.
I was interested in seeing how these two services match up in real-use tests. I decided to pit Encyclopædia Britannica alongside Wikipedia Mobile. I chose the Wikipedia Mobile app because it's Wikipedia's official iPhone client, and it's free.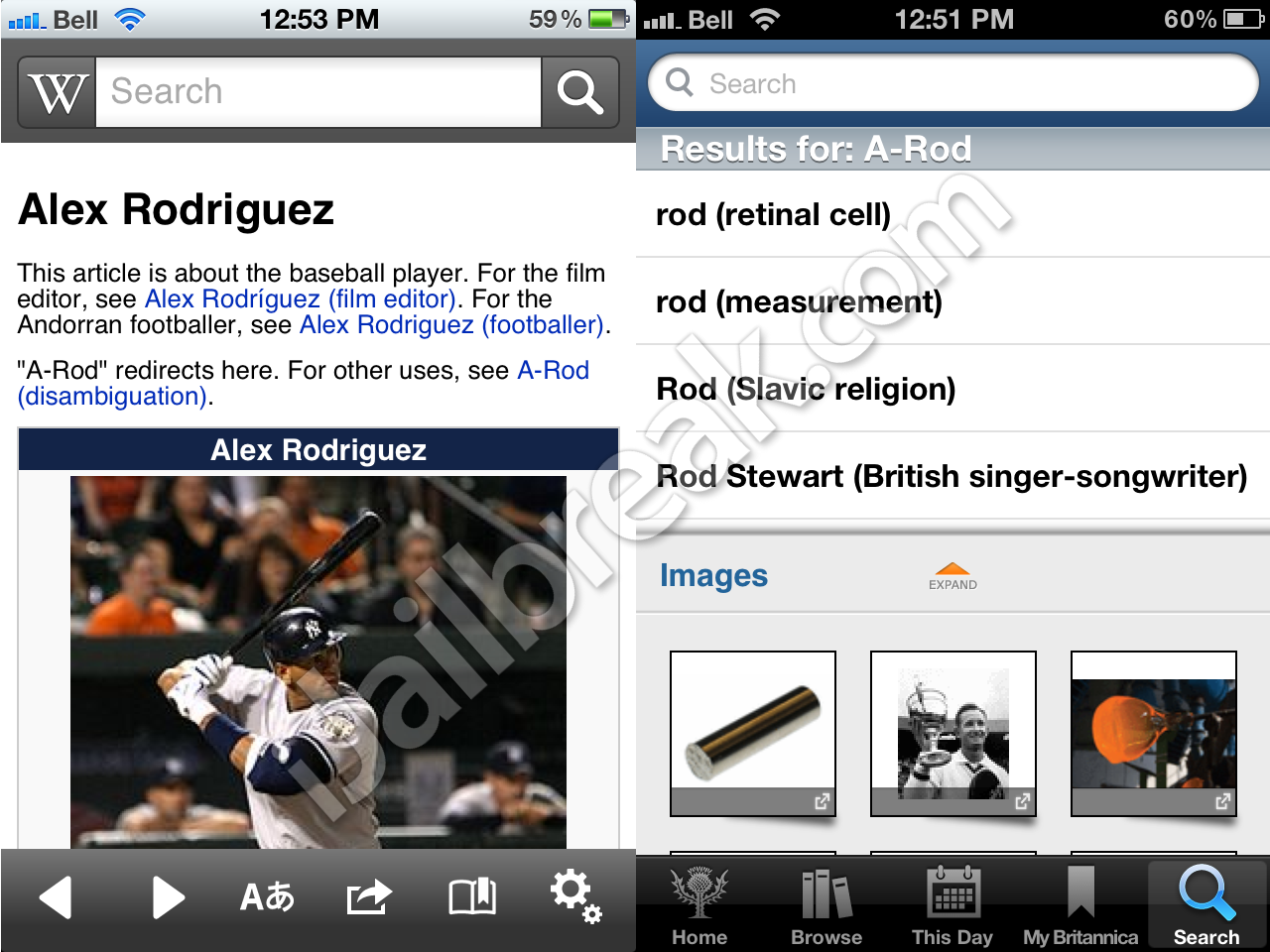 In Britannica searching directly for "A-Rod," as advertised on the iTunes page, pointed me towards rod (retinal cell), rod (measurement), rod (slavic religion), and Rod Stewart. Wikipedia Mobile brought me to Alex Rodriguez at the first suggestion. Wikipedia just seems to have a better built-in search algorithm. Britannica does have a page on Alex Rodriguez (which can be found by scrolling two pages down on the A-Rod search list), but I can't see the whole article unless I pay a monthly subscription, just an abstract. For free, Britannica will tell me the ball-player's birth date and place, that he's a noted power hitter, and that his family moved to the "Dominican republic when Alex was—-." On Wikipedia Mobile I can read pages of details about his professional career, his steroid use and his personal life. More than a sane person should care to know about someone they will never meet.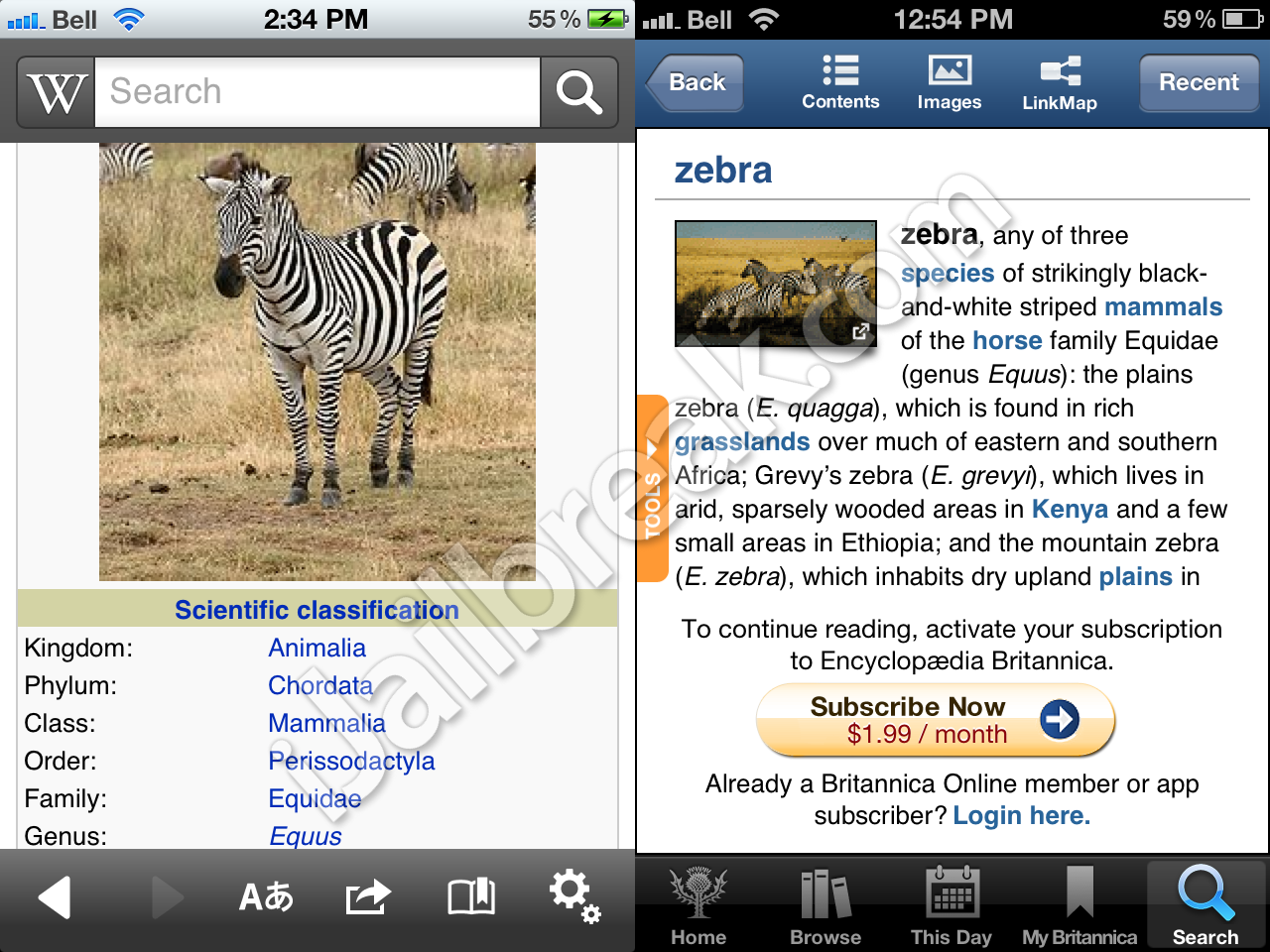 To its credit, Britannica was able to find "zebra" right away. For free Britannica will tell you that a zebra has black and white stripes, is related to the horse, and lives in eastern and southern Africa. Y'know what? That's all I really care to know about the humble zebra. Wikipedia starts off with a big full colour photograph of a herd of zebras, the zebra's scientific classification, and the various zebra species before it tells me that zebras are black-and-white striped animals that are related to horses. There is also detailed content about zebra classification, physical attributes, as well as zebra ecology and behavior available in more depth than I will ever care to know about.
The "A-Rod To zebra statement" was a boast about Britannica's breadth of content, but this is a field in which Britannica is seriously out of its depth. I searched for Anonymous on Encyclopædia Britannica, and I was not able to call up anything about the anarchic Internet collective of hacktivists, hooligans and pranksters. Wikipedia has about 3400 words on the subject. On Britannica "Cydia" got me a page about moths, "Jailbreak" got me nothing, and I wasn't able to look up background info on Snow Crash. If it can't tell me what jailbreaking is (or make me look smart at my monthly book club) then what good is a $1.99/month subscription? Maybe if I shell out the money I will find that the articles are better written, contain more detail, and are far more accurate and reliable, but all that doesn't matter if the service won't have information on what I need to know.
Fans of Douglas Adams' The Hitchhiker's Guide to the Galaxy may remember the book's comparison between the Encyclopedia Galactica and the Hitchhiker's Guide: the Guide it's not as reliable as the older Encyclopedia and has many omissions, but it's more popular because it's cheaper and "has the words "DON'T PANIC" inscribed in large friendly letters on its cover." In this case Wikipedia is free while Britannica charges a subscription and has almost fifty times less content. That's in English alone.
You can download Encyclopædia Britannica and Wikipedia Mobile for FREE at the links provided below. Encyclopædia Britannica charges a $1.99/month subscription for full access to their articles, but you can search the site for free to see if it has the information you need access to. Though I would have to ask: Why would you want to do that when Wikipedia can already give you more information than you'll ever need to know about zebras?
Download Encyclopædia Britannica – FREE [iTunes link]
Download Wikipedia Mobile – FREE [iTunes link]
Tell us all about how unreliable Wikipedia is in the comments section below.