While we have covered fully-fledged BitTorrent clients for the iPhone, iPad, and iPod Touch (supporting both GUI and old-school terminal) sometimes it makes more sense to have your desktop do the heavy lifting. You take your phone with you when you leave the house, you can't have it wasting precious battery life on background downloads, and your computer is constantly plugged into power and (usually) cheaper bandwidth. Transmission RPC is an application that allows you to control a transmission server (like your desktop PC) from your phone. This allows you the flexibility of finding links on your mobile device and the reliability of using your desktop PC for the download.
Keep in mind that this remote monitor for torrents might not be available forever. A similar app, iControlBits, was removed from the iTunes store in the last year. In addition to all the remote features you would expect, Transmission RPC can be used to access torrent files from Safari, Mail and Other apps as well as handle magnet links from Safari.
The requirements for Transmission RPC are steep; surprisingly steep for a simple remote client. The minimum hardware is either the iPhone 3GS, original iPad, or 4th Generation iPod Touch running iOS 5.1. I can't see why this app wouldn't support legacy hardware, such as older iPods, but perhaps the developers have a reason.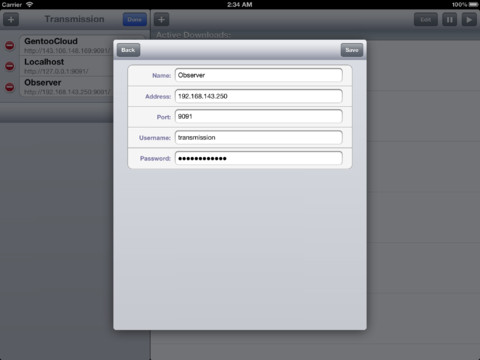 Download Transmission RPC for the iPhone, iPad, iPod Touch – $1.99 [iTunes Link]
Would you prefer having a full Transmission app on your phone or a remote app for controlling the client on your desktop computer? Share your thoughts in the comments section below.