Do you happen to own a Sony PlayStation 3? Do you want to stream videos, music and pictures from your iPhone, iPod Touch or iPad? Here's a perfect little app that will let you stream media from your iOS device to the PS3 over a Wi-Fi connection. iMediaShare is a free app available on the App Store, that let's you stream videos, music and pictures from your iPhone, iPod Touch or iPad to the PS3, Xbox 360 and also few Internet enabled TV sets.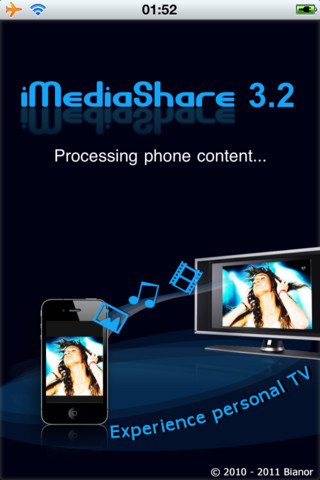 Apple already has streaming covered and it's called AirPlay. But, if you wanted to stream something from you iOS device to your TV, then had to have access to an Apple TV. iMediaShare on the other hand, doesn't need an Apple TV to stream media. The only thing the app requires is both your iOS device and PS3 to be connected to the same Wi-Fi network.
iMediaShare is very easy to use. And it also works on Xbox 360, Internet enabled televisions and some Blu-ray players. The app comes with certain inbuilt channels that you can stream to the big screen. After downloading the app, fire it up and turn on your PS3, Xbox 360 or TV and look for your iOS device in the respective menus. Select you device and start streaming content or browsing through your content from the PS3 etc.
If your device doesn't show up on your PS3, then go to Settings>Network Settings and enable Media Server Connection. Also make sure the iMediaShare app is on in Location Services on your iDevice, as this ensures the app to have access to your photos and videos.
A paid version is also available for $2.99, which is ad free and has some extra features. However, the free version is more than sufficient to stream content from your iOS device.
Download iMediaShare free app (iTunes link)
Download iMediaShare premium app (iTunes link)
Try this app and let us know in the comments if it worked for you and if you already knew about this amazing app.