The only way to get unlimited tethering on your iPhone was to subscribe to one of those expensive plans that carriers provided (which, in reality were not unlimited). Tethering lets you share your iPhone's 3G data connection with your PC, other iOS devices and your Mac computer. The iTether app, strangely, was the only app of its kind to be accepted on the App Store, but in just 48 hours it was pulled off for obvious reasons.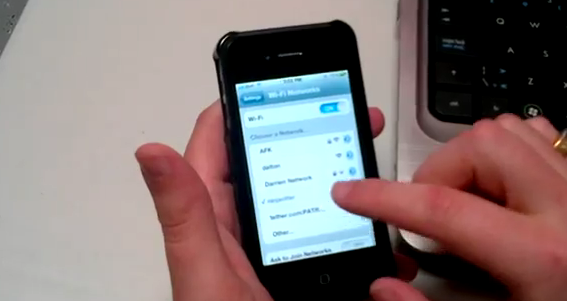 Now, it's back! The iTether unlimited tethering app lets you share your iPhone's internet connection via USB. However, this time around iTether has been released as a HTML5 based web app. That's a smart move, and Apple will probably let it slip by. It's still not as cool and easy to use as iOS's built-in Personal Hotspot feature, but it is certainly super cheap. For a whole year of unlimited tethering you just have to spend $30!
All you have to do, is download the Mac App (here), install it and create an Ad-hoc network. Then follow these instructions to get your iPhone and Mac connected.
Run Tether on your computer. Enter a name for the SSID of the ad-hoc network that will be created. You may enter a password for the network or leave it blank for an open network.
On your iOS mobile device click the Settings icon and then click Wi-Fi. Select the tether.com:SSIDNAME network and enter the WEP key if you created the network with one.
Open the safari browser on your iOS mobile device and visit . If you have an account, login and follow the on screen instructions. The webpage should then establish a connection between the iOS mobile device and your Mac.
Once the Server Status and the Computer Status show that they are connected your Mac should now be online!
That wasn't very difficult right? And the best part is that this is all wireless. The iTether service can be ordered from here, for a price of $15 per year (offer for a week) and from then on it will be available for $30. So hurry up, if you want to enjoy cheap unlimited tethering on your iPhone, jailbroken or not. Try this service and give us your opinion in the comments section below…
[Via 9to5Mac]