This app could be useful for those who are stuck using an Android device, but actually wanted to own an iOS device. If you're one of those and want to at least look and feel the homescreen of an iPhone on your Android device, then this app is for you! Of course, you will not experience the iOS smoothness and features while using this app, but it will help you fool others.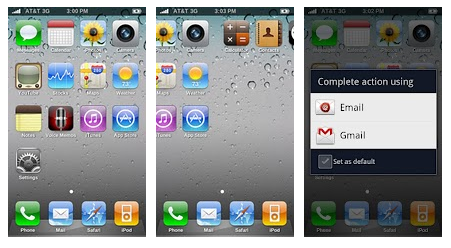 Fake iPhone 4S is a new app, currently available in the Android Market, that completely gets rid of your stock Android look and replaces it with the iOS homescreen. It's not one of those apps that just make parts of your homescreen look like it's from iOS, it replaces the whole thing, including the status bar. One look at it will fool anyone into asking if you're running iOS on your Android device.
Trick your friends into thinking you have the new iPhone 4S! This app is a full-screen working replica of the iPhone 4 home screen. It even replaces your phone's status bar, so there's no hint of Android underneath.
It opens the corresponding app to the icons placed on the homescreen, so people won't know that this isn't real. If there are apps that aren't installed on your device, a sponsored ad would be launched so that the developers make some money off it. The developer of this app is currently working on improving it and will probably turn it into a launcher so users won't have to launch the app to use it.
So far, all the reviews for the app have been good and everyone's liking it. A new upcoming version of this will also include more features such as customizable network indicator, more apps and a working 3G/Wi-Fi icon on the status bar. Fake iPhone 4S is available in the Android Market for free. Try it out!
Download Fake iPhone 4S from the Android Market