I've been using the iPhone for almost 3 years now, and have never thought about getting a different phone. When I do get a chance to have a look at another device and/or operating system, usually one of the things I'm interested in it how they incorporate themes and backgrounds. I think it was an Android device I saw, one time, that had this cool effect where, when you swiped through your pages, the background moved with you, but had perspective, so the background looked "far away".
Today, I downloaded "Simple Background" from Cydia, and found that this was the feature I was looking for, since I had seen that other device! This new tweak gives you a panoramic type wallpaper, so you can now have widescreen backgrounds, and get to see the whole thing, when swiping through pages.
Here's the official description from Cydia:
Simple Background allows you to have a perspective wallpaper on the Home Screen. This SpringBoard extension uses the minimum amount of memory your Home Screen requires (for 5 pages, it's less than 2 MB) and is compatible with WinterBoard (also works without WinterBoard).

You can set a Home Screen wallpaper exactly where you've always set the Lock Screen wallpaper. Now, a prompt asks on which screen the wallpaper should be set:

In Settings > Wallpaper, after selecting Set Wallpaper.
In the photo library, after tapping the share button, then selecting Set Wallpaper.

Compatible with WinterBoard! This package places itself above your WinterBoard Home Screen wallpaper.

Currently, you can only set photos from the Wallpaper gallery or camera roll. You aren't allowed to set photos from your photo library yet (they also are reduced to a very small resolution, being pretty bad for a panoramic wallpaper). This will be worked out in the future.

Unknown issues:

Grabbed icons (when moving them around) appear below other icons and dock.
After stopping to move icons around, the wallpaper may end up with a slightly wrong size. It fixes itself soon after.
I know it's hard to picture what this can do, so I made a quick demo video:
Simple Background also brings you one of the features from iPhone OS 4. You can set different wallpaper for your lock screen and home screen, without using WinterBoard.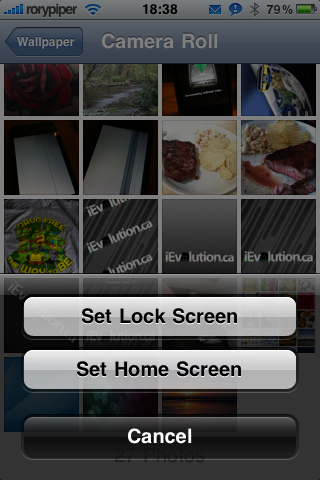 Simple Background is available now in Cydia, for jailbroken devices, for free!