If you wanted to unlock the baseband of your Samsung Galaxy S III so it will work with SIM cards from any carrier, the initial methods weren't very user friendly. The process takes about 17 steps and involves setting permissions and mucking around with a hexadecimal editor. That might be fine for you or me, but its time consuming and can scare off people who are less tech savvy (and its not like we're the only people who need unlocked basebands). The same method has been automated into an app, which is available as 'Voodoo Galaxy S III SIM Unlock' on the Google Play Store.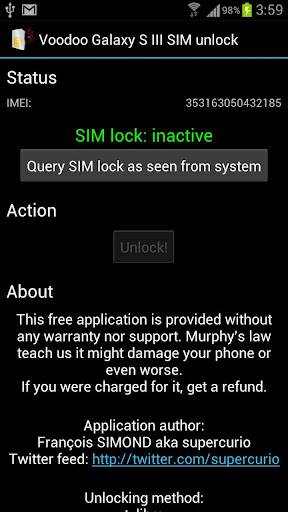 Voodoo Galaxy S III SIM Unlock automates the process into a one button operation. (Well, two. There's also a button for checking the status of your current SIM lock.) All you need is a rooted Samsung Galaxy S III and the app (and whatever SIM card you want to use later). The app will even back up your EFS files, but does not currently feature an automated restore function.
If you manage to install the unlock tool on the wrong device, it will inform you that your device is incompatible, instead of breaking things.
The Voodoo Galaxy S III SIM Unlock is a FREE, open source project and is provided without warranty. (Though the developer does not expect that a user can do irreversible damage to their baseband with the tool.) If you need to do a baseband restore, you may be able to find support from the developers in the original unlock's XDA forum thread or the project's Github page.
Download Voodoo Galaxy S III SIM Unlock for the Samsung Galaxy S III – FREE [Google Play Store Link]
Let us know in the comments section below if the Voodoo Galaxy S III SIM Unlock tool successfully unlocks your phone.