For those of you who would like to get some of the features of Android 4.1 Jelly Bean, like the lockscreen, on your Android Device while running Android 4.0 Ice Cream Sandwich, then you should check out Holo Locker. What Holo Locker is, is a new app that was recently released into the Google Play Store to bring the Android 4.1 Jelly Bean lockscreen to your Android device that is not currently running Jelly Bean.
Simple and fast lock screen replacement, based on stock Jelly Bean lock screen. Holo locker is not a theme for Go Locker or others, it is the real Jelly Bean lock screen app. More customization options will be added in future.
For those of you who do not remember what the Android 4.1 Jelly Bean lockscreen looks like, essentially it is just a bunch of dots that follow your finger around. Though Holo Locker is a great way to bring Jelly Bean's lockscreen to your Android device it is not perfect. It lacks customization options, and still has a few stability bugs.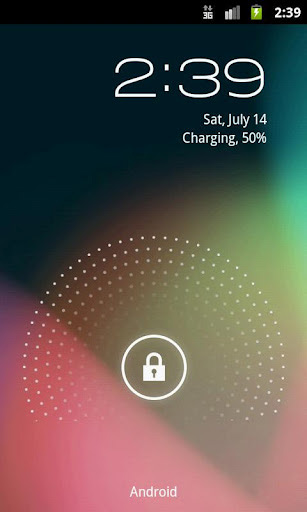 Regardless, these flaws should be worked out in future updates, and Holo Locker is still worth the download if you would like Jelly Bean's lockscreen on your Android Device running Android 2.2 or above.
Download Holo Locker [Google Play Store Link]
What do you think of Holo Locker? Share your responses and further thoughts in the comments section.